Traveling offshore
There are many things to know and ready yourself for.
Health certificate and course-diploma
Make sure you have a valid offshore health certificate, bring this with you. The certificate is valid for two years. Aker BP employees can get the health examination by contacting Aker BP's Health Department. You must be prepared to show your certificate upon check-in at the heliport.
Identification
Bring valid identification; passport, drivers license or national ID-card. Do not pack these documents in the checked-in luggage. You might have to display them at the security check before boarding.
If you are a foreign citizen, you must have a valid residence permit and work permit and be able to show these at check-in. More information and details can be found in the guidelines from the Norwegian oil and gas association.
Requirements before departure
General requirements before departure to Aker BP's fixed installations:
Valid offshore health certificate
Basic safety course (GSK)

Mandatory for all offshore personnel
Rehearsal course every four years
AT / SJA

Interactive course that is mandatory for all offshore personnel
Includes common procedures for work permits (AT) and safe job analysis (SJA)
Completed the e-learning course «A SAFER departure training». The course is available via Aker BP's Training Portal. Choose the training module that matches your dicipline. If you are unsure, select "Operation and maintenance".

Operation and maintenance
Project and modifications
Drilling and well maintenance
Insulation, scaffolding and surface (ISO subjects)
Catering
For technical support and technical issues, please contact: support@mintragroup.com. Please note that there may be specific departure requirements for drilling rigs or flotels that are commissioned by Aker BP.
Departure documents such as health certificate and course certificate, which are not already registered in DaWinci, should be sent to aviation@akerbp.com for registration in DaWinci before departure. These must also be able to be displayed on request at the heliport.
MyDaWinci profile
It is expected that you create a MyDaWinci profile. This is an online portal for anyone traveling offshore, where you get an overview of your personal data, certificates and completed courses. The portal is used for pre-check-in for helicopter tours. Through your profile, you can also e.g. subscribe to your departure information, expiry date of own departure requirements and other useful information.
On departure, you are expected to do a pre-check-in (including approval of the privacy statement) via your MyDaWinci profile, so that you can use the self-service check-in machine at the Heliport.
Meeting point
You must meet at the heliport no later than one hour before departure. For first-time travelers, it is recommended to come even earlier. Change of departure time must be clarified and approved in advance. Helicopter departures can be followed at heliport.no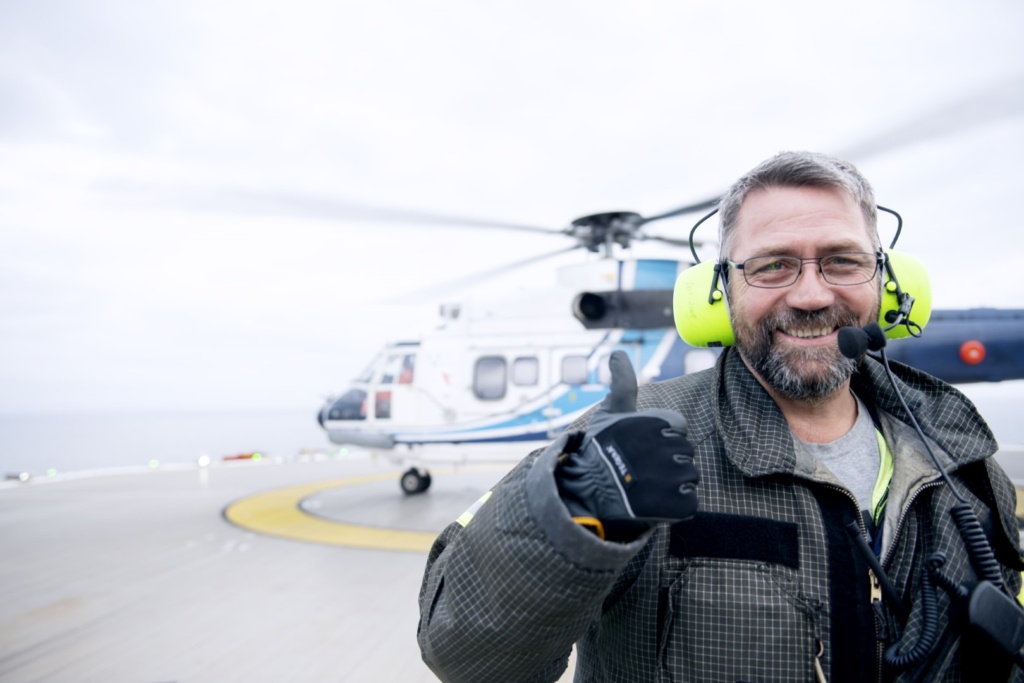 Luggage
Your luggage must comply with the following requirements:
Maximum weight per bag: 10 kg
Maximum size: 60 x 50 x 30 cm
Maximum 2 bags – exceeding luggage must be sent as cargo
Avoid using bags that can be easily blown away by the wind on the helideck
It is not allowed to bring hand luggage on board the helicopter (only newspaper/book that can be placed in the inner pocket of the survival suit).
Tools and equipment can not be checked in as luggage. This must be sent as cargo. There are separate guidelines for: Offshore Norway. 003 Recommended guidelines for safety control at the helicopter terminals
Protective equipment
The BMS procedure (81-000702) for the selection and use of personal protective equipment required to travel offshore for AkerBP must be followed.
Standard personal protective equipment must be used when outside the living quarters.
The following personal protective equipment is defined as standard protective equipment:
Overalls with long sleeves and reflective stripes.
Helmet with fitted hearing protection.
Protective footwear, ankle boots (or higher) with lacing / BOA lacing system to ensure adequate ankle support.
Safety glasses or CE approved personal glasses with side protection.
Protective gloves.
Medicines
All medicines must be registered at the heliport and presented at the security check. Please note that the nurse will have the most commonly used medications available on board.
Non-prescription drugs can only be included in unopened packaging.
Prescription medicines must be in the original packaging and marked with your name (prescription label).
All medications must be cleared with a nurse on arrival offshore.
For more details: Offshore Norway, 003 Recommended guidelines for safety control at the helicopter terminals.
Personal electronic equipment (PC, mobile, camera, tablet and smartwatch)
It is not permitted to use a mobile phone, tablet, or laptop during the helicopter ride. The equipment must be completely switched off (not flight mode) and packed in the luggage. Mobile phone can be placed inside the survival suit.
During the safety film, both onshore and offshore, the mobile phone must be switched off and placed in the inner pocket of the suit.
Smartwatches must also be fully switched off during the helicopter ride.
Use of mobile phones and electronic equipment is limited to approved areas of the living quarter and shall not be brought to the production areas.
Those who travel offshore must obtain the approval by the platform manager for use of mobile phones in offices and control rooms.
Mobile phones that are switched on must always be set to silent. Talking on mobile phone should, generally, take place in cabins or places where you are not disturbing others.
Work permit must be obtained in advance of photography / filming outside the living quarter / approved area.
Personal electronic equipment must not be used in an emergency.
It is not permitted to post information or photos on social media, or through other channels, during or after an emergency.
In potentially explosive atmospheres, smartwatches and other personal electronic equipment are not permitted.
It is not permitted to bring batteries and powerbanks offshore.
For more details: SFS, Use of personal electronic devices.
Other
It is forbidden to bring alcohol, weapons and other objects, such as a knife, pepper spray or similar, which may pose a danger to personnel and equipment.
The facilities
Before traveling offshore, you should familiarize yourself with our fields.
Helicopter transport in arctic regions
Special requirements for the use of woolen underwear apply to helicopter transport to/from rigs, vessels or installations in Arctic waters (Barents Sea). You will receive detailed information based on location and season.
HSE portal (in Norwegian)
If you want to read more about our HSE work, please visit our HSE portal (in Norwegian).
HSE introduction
Make sure to watch the safety video for the field you are going to.