Letter from the CEO
Environment, Social and Governance criteria have firmly taken the centre stage on the strategic agendas of oil and gas companies. As the world will need our products for decades to come, Aker BP's most resilient strategy remains to produce oil and gas at the lowest possible costs with minimal carbon emissions. In 2021, we intensified sustainability efforts and strengthened our position as an oil and gas company fit for the future. Going forward we are evaluating an even more ambitious decarbonisation strategy that includes initiatives aimed at reaching net zero emissions by 2030.
Aker BP is a pure-play oil and gas company. We are proud of who we are and what we do.
Aker BP is one of the largest independent stock-exchange listed oil and gas companies in Europe and generates significant value for both shareholders and Norwegian society. Going forward we plan to explore more, find more, develop more, and produce even more oil and gas. Allow me to share my thoughts on why our approach is essential in a sustainability context.
Sustainable operations
I believe that only the most efficient oil and gas companies, those with the lowest costs and carbon emissions, will thrive in the future. I am confident that Aker BP is very well positioned to lead our industry in this respect.
Safe and efficient operations are at the core of everything we do. In 2021, we recorded a net production of 209 thousand barrels of oil equivalents per day. Our production efficiency was 85 percent and production costs for the full year amounted to USD 9.2 per barrel.
Maintaining and further improving our health, safety and environment performance is a top priority for me. No one should be harmed or injured while working at or for Aker BP. In 2021, we continued our positive safety trend, with a reduction in our serious injury frequency rate and zero process safety incidents. Although it is a requirement under our operating licence, a strong safety culture cannot be taken for granted. It requires continuous efforts and constant vigilance.

We work every day to reduce emissions from our operations. Our CO₂ intensity in 2021 was 4.8 kg CO₂ per barrel of oil equivalent. Although this performance places us firmly in the top tier of our industry worldwide, we do not rest on our laurels in our pursuit of emission reductions.
Future energy system
A major transformation of the energy system is underway, and Aker BP is determined to play an active part as a low-cost, low-carbon producer.
Aker BP acknowledges the conclusions from the Intergovernmental Panel on Climate Change (IPCC) and supports the goals of the Paris Agreement. There is no doubt the world's dependence on fossil fuels will decrease over time. Although the exact path to a new energy system is uncertain, one thing remains clear. Oil and gas will exist alongside renewables for decades to come. We produce energy that the world depends on, and we contribute with raw materials to a wide range of products used in our daily lives.
The 2021 edition of the World Energy Outlook published by the International Energy Agency (IEA) uses four scenarios to examine future energy trends. Notably, in all these scenarios — even the Net Zero Emissions scenario — oil and gas continue to play a major role in the global energy mix for decades. At Aker BP we systematically test our strategic decisions and portfolio to ensure that the company maintains its financial robustness under the various scenarios.
Indisputably, the oil and gas industry needs to change, and the pace of our energy transition must accelerate. To that end, Aker BP relentlessly pursues improvements to reduce our carbon footprint and cut production costs.
In my view, the oil and gas companies fit for the future will have to be dynamic, fast, and resilient in the face of risks and uncertainties posed by the global energy transition. Rising to and excelling at these challenges are the core of our strategy. I am convinced that Aker BP, as a pure-play oil and gas company, will have a vital role in this energy transition. This is also why we do not apologize for being an oil and gas company.
Optimized energy use
Climate concerns and objectives are integral to Aker BP's annual strategy process and embedded in our decision-making. We are committed to achieving a 50-percent gross Scope 1 emission reduction by 2030 and close to zero emissions by 2050. These goals are in line with industry targets and expectations from Norwegian Government authorities. However, our ambition goes beyond that. We are working on a decarbonization strategy to bring us to net zero emissions in this decade.
Because energy-efficient solutions and operations are essential to reaching our objectives, our approach to energy efficiency is embedded in how we work. In 2021, we implemented greenhouse gas emission reduction measures that yielded a total of nearly 23,000 metric tons of CO₂e. One such initiative is a limited modification at our Alvheim field that resulted in an annual reduction in methane emissions with a global warming potential of 6,600 tons CO₂e. Measures such as this one, have been identified and implemented across all our assets.
In 2021, we intensified work on cutting indirect emissions in our value chain — the Scope 3 emissions. For example, the platform supply vessel NS Frayja, operated by Eidesvik Offshore, received an emission-reducing upgrade with a new battery system and utilization of an electrical power and charging connection when at quay. Five platform supply vessels operating under long-term contracts with Aker BP will be fitted with batteries starting in 2022, resulting in a 10-percent annual CO₂ reduction. We are also working with Alma Clean Power and Eidesvik Offshore to explore retrofit installation ammonia fuel cell technology on two offshore support vessels.
Positive ripple effects
Aker BP seeks to create substantial positive ripple effects from our projects and operations. For me, it is especially important that the communities in which we operate benefit from our presence. We contribute not only by providing employment and supplier development, but also through the products and services we purchase and the taxes we pay.
An integral part of Aker BP's strategy is to form long-term strategic partnerships with key suppliers through our alliance model. A key element in this model is that we secure a significant proportion of locally sourced deliveries in our projects.
Let me illustrate the benefits of our way of working. In August 2021, I was present when the Hod B topside sailed from Aker Solutions' yard in Verdal, only 14 months after I personally cut the first steel for the platform at the yard. A top-quality project delivered according to plan in the middle of a pandemic. This was a monumental achievement for the Fixed Facilities Alliance.
At peak, around 550 people worked on the Hod project at the yard in Verdal. But perhaps most rewarding of all, 50 apprentices completed major parts of their vocational training on this project, many of whom have gone on to work in renewable energy, including on floating offshore wind projects.
Aker BP has ambitious investment plans for the next few years, the largest of which is the coordinated development of the NOAKA area. Other significant upcoming projects include the New Central Platform (NCP) on Valhall and the tie-in of King Lear.
These projects will be delivered in close cooperation with our alliance partners. Consequently, we expect a large proportion of contracts to be awarded to local suppliers, which will in turn generate tens of thousands of jobs in local communities.
For example, pending final investment decisions and authority approvals, we plan to construct platforms at the yards in Verdal and Stord with support from Sandnessjøen and Egersund. These projects will be very important to the local economies and communities. As we move toward a global energy transition, our investments contribute to secure employment and technological advances.
The best team in the industry
Our people are Aker BP's most important asset. The entire Aker BP team is committed to contribute to the transformation of our company and our industry. At the core of our identity is that we strive to outperform ourselves, that we always do our very best, and always seek improvement.
Today's Aker BP is the result of mergers and acquisitions. Our workforce is a mix of employees with different backgrounds and skillsets. I view this diversity as a competitive edge. We strive to create and maintain an effective and collaborative working environment where diversity and inclusion are key components of our strategy.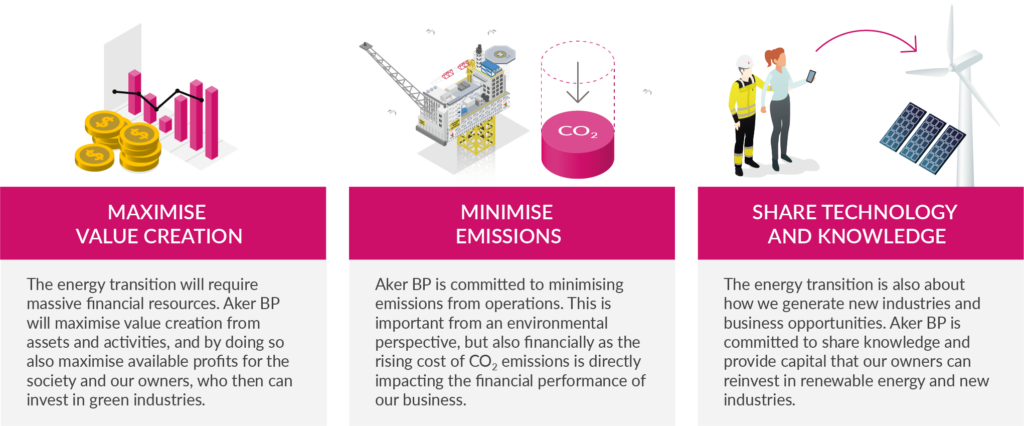 At Aker BP, employees can build the best CVs in the industry by taking advantage of career moves, skill-building, and development opportunities. And career development is essential for us to succeed with our strategy. Our commitment to our people also includes offering employees opportunities for meaningful engagements that go beyond our everyday operations. One such program is mentoring cancer survivors. Another is volunteering at the world's largest winter sport games for visually impaired and disabled athletes. I am always proud to see our employees selflessly engage in such activities.
As of year-end 2021, Aker BP had just over 1,800 permanent employees. However, the Aker BP One Team is much larger and growing. It is only by working with alliance partners, strategic partners, suppliers, and related industries that we can fulfil our vision of becoming the leading oil and gas company. And we consider every individual who is with us on this journey to be part of the Aker BP One Team.
Aker BP closed 2021 by announcing a transaction agreement with Lundin Energy AB, where Aker BP will acquire Lundin Energy's oil and gas related activities. The transaction is subject to approval by the shareholders of both companies at their respective general meetings, and approval by relevant authorities. Closing of the transaction is expected during the second quarter of 2022.
More speed – greater momentum
Aker BP remains well-positioned. Going forward we will increase our speed and gain momentum in our drive to achieve the lowest operating cost, the lowest carbon intensity and the highest value creation in our industry.
We will operate our assets safely and efficiently. We will employ Aker BP's unique alliance model to develop our large hopper of highly profitable projects, thus paving the way for increased production. We will aggressively pursue digitalization along with other improvement initiatives to further strengthen our position. And finally, we will build and develop a team that is simply impossible to beat.
With this strategy, financial robustness, growth opportunities and team, I am convinced Aker BP will play a crucial role in the energy transition. We are creating the exploration and production company of the future.