Environmental impact
Aker BP's environmental management system is an integral part of the company's Sustainability Framework and HSSEQ management system. We follow the guiding principles in ISO 14001. Aker BP's policies on Environment and Climate describe our commitment to safeguarding and avoiding harm to the environment. The Climate Policy is further detailed in the GHG emission section.
The policies establish our standards and expectations for the organisation, including temporary personnel and contractors, and is approved by the Executive Management Team (EMT). The CEO has the overall responsibility at company level. All functions are responsible for HSSEQ performance and work towards preventing and reducing environmental impact. All employees take ownership and are committed to contributing towards our environment and climate policies.
Aker BP's Environmental Policy includes a commitment to evaluate and manage environmental aspects and risks from our projects, drilling and operational activities. Our most significant environmental aspects originate from discharges to sea, emissions to air, waste, energy consumption and spills, and how these aspects affect biodiversity. We ensure that our environmental impact is as low as reasonably possible, through including use of Best Available Techniques (BAT) and following NORSOK standard S-003 Environmental Care. The NORSOK standard is a Norwegian petroleum standard that describes the decision process at the various stages of design development and the related environmental issues. For example when we introduce exploration drilling, potential changes in offshore operations or new projects that affect our environmental aspects and risks, we perform environmental impact assessments and evaluation of appropriate measures. Annual HSSEQ programmes are in place for both exploration and production drilling as well as other production activities. These plans include environmental objectives, activities and focus areas for each year. We work to adapt swiftly to change and consider innovative solutions and their potential impact on our operations. By learning from successes and failures, we continuously seek to minimise risk to the environment.
Aker BP has committed to work systematically and continuously to prevent spills to the environment and reduce our environmental impact. Use and discharge of chemicals are other significant aspects that we continuously seek to reduce. We select chemicals that give the lowest risk of environmental harm. We also have annual plans in place to substitute the most environmental harmful chemicals from our operations.
We also drive our alliance and strategic partners, contractors, and suppliers in the same direction. We identify and include stakeholders and experts in a process for identifying actual and potential environmental impact and risks. We have developed robust processes to identify environmental aspects and risks for all operations.
Management of biodiversity is detailed in the Biodiversity chapter in this report.
Our risk-based approach is triggered by both internal and external requirements. New or changed regulatory requirements or industry initiatives are some examples of external triggers. Environmental barrier development and barrier control follow regulatory and company requirements, in addition to specific NORSOK standards. Discharges to sea and emissions to air from both our operations and exploration activities are regulated by our discharge permits issued by the Norwegian Environment Agency (NEA). Annual transparent reporting to NEA, discloses our environmental performance in relation to the permits.
We continuously review and assess the degree to which environmental expectations are met. Environmental performance is followed up and included in our ISO 14001 compliant environmental accounting system, NEMS. Significant environmental aspects are followed up in digital dashboards available for both management and those operating the field. We measure our performance against these Key Performance Indicators (KPIs). Our strategy and environmental ambition levels are reviewed regularly. Major environmental issues are lifted to the Board of Directors.
For asset specific performance indicators, we have an annual process and set new targets each year. Our asset specific performance indicators in 2021 included oil concentration in discharges to sea, CO₂ emissions and intensity, flaring volume and produced water re-injection percentage. KPI targets are set per field and will vary depending on field attributes. For example, produced water re-injection on Ivar Aasen was set at 97 percent in 2021 and for Alvheim it was set at 90 percent re-injection. There is no re-injection of produced water on Ula, Skarv or the Valhall field due to reservoir integrity challenges. Our environmental performance is disclosed in the table on page 53-55.
Necessary training and education are provided through both in-house and external courses. Frequent awareness programmes are also carried out both onshore and offshore. In 2020, we implemented an environmental training programme for all employees and contractors. The purpose is to raise awareness and educate all personnel on environmental risks and aspects relevant for Aker BP's operations. Additionally, in 2021 we launched an HSSEQ course for all new employees that also covers environment and climate.
In 2021, Aker BP revised parts of our environmental management system with updated policies for environment and climate. Aker BP conducts internal audits to verify the effectiveness of our management system and as part of our efforts for continuous improvement. In 2021, the Internal Audit and Investigation (IAI) team conducted an audit of our environmental, climate and energy management system as part of our continuous improvement efforts and to ensure compliance. In addition, Aker BP's environmental management system and our operations on all assets are subject to continuous supervision and verifications by government agencies such as the NEA. In 2021, the NEA audited Alvheim with regards to chemical management, drainage water and incident management.
GHG emissions
Aker BP acknowledges the urgent need for action in line with the Paris Agreement and the Parliament expectations, and we remain committed to continue contributing to the solution.
To meet the obligations in the Paris Agreement, the Norwegian Government has committed to a minimum emission reduction of 50 percent (gross) within 2030. Additionally, the Norwegian Government has suggested a requirement for low emissions solutions on platform supply vessels (PSVs) from 2025 and zero emissions solutions from 2030. Aker BP will thus be subject to these commitments. To strengthen the management of climate related issues in Aker BP, we issued a separate Climate Policy in 2021. The main principles in the policy cover our commitment to manage climate-related risks and opportunities, reduction of energy consumption and related emissions to air, as well as our commitment to reduce GHG emissions in line with the Paris agreement and Norwegian Parliament expectations. Through our obligations to the authorities, our emission levels are controlled and limited by authority permits for each asset, strict environmental regulations and specific Norwegian Continental Shelf (NCS) standards. Our commitment to manage climate related risks and opportunities is described in the "Risks and opportunities posed by climate change" chapter of this report.
GHG emission reductions
tonnes CO₂e
1.2% lasting reductions
We have made it our strategic priority to be best-in-class in producing low-carbon oil and gas, leading us towards reaching a 50 percent scope 1 emission reduction (gross) in the 2030, and close to zero emissions in 2050. 2005 signifies our base year when calculating the 50 percent emission reduction in the 2030, aligned with the NCS industry collaboration KonKraft. We acknowledge that we have indirect emissions related to upstream scope 3, and we work in cooperation with suppliers, to establish a GHG footprint for materials and set reduction targets for scope 3. In 2021, we have strengthened our strategic priority to reduce scope 3 emissions. Our goal is to minimise emissions from our own activities on the NCS by choosing energy-efficient solutions and operations, as well as reducing emissions in our supply chain.
New projects must perform feasibility studies for power from shore or power transmission. In cases where new energy- intensive equipment is purchased, the equipment must be as energy-efficient as possible and use low-emission technology. Two of the three assets generating power from gas turbines already use low-NO X combustion technology.
Production KPIs and CO₂ intensity emission targets are included
as part of the incentive structure for all employees. Our climate
strategy is incorporated in the business management system and anchored in separate policies for climate and external environment, as well as action plans for 2021.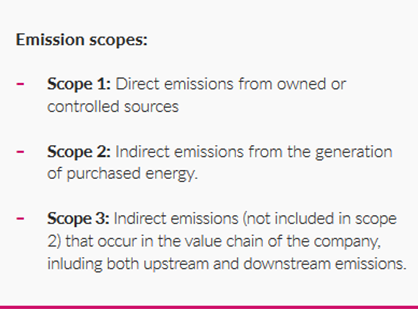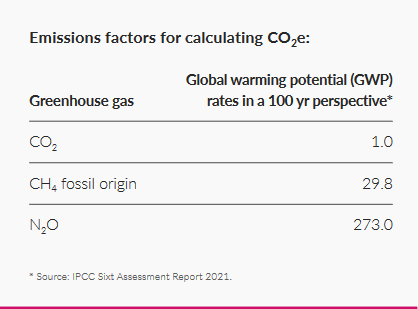 Energy
Achieving reductions in energy consumption and pursuing energy-efficient solutions and technology through energy management is an inherent part of Aker BP's strategy to be the best-in-class in producing low-carbon oil and gas. Our approach to energy efficiency is embedded in how we work and includes our governing principles, performance, and reward framework. Aker BP's Climate Policy formalises our commitment to energy management and energy efficiency. Our energy management system enables us to deliver on our performance goals.
Energy management in Aker BP is governed by ISO 50 001 and our energy management system embodies the principles from this standard. As an operating company on the Norwegian Continental Shelf, Aker BP is required by law (The Activities Regulations) to conduct energy management in accordance with the principles of this standard.
We work continuously to reduce our energy consumption and related emissions by implementing measures identified through energy improvement opportunities. These efforts are driven by established energy teams in each asset and reported to top management on a regular basis.
In 2021, we continued pursuing our efforts to reduce and optimise energy consumption, as well as to reduce emissions. The total energy consumption was reduced with 99,843 GJ from 2020 to 2021. The effectiveness of energy management and implementation of identified energy improvement opportunities is tracked through reduced emission levels at each asset as well as through Aker BP's CO₂ intensity KPI. In 2021 our energy intensity was 18 kwh/boe and includes gas, diesel and electric energy.
Valhall already has power from shore while Ivar Aasen, which currently receives power from Edvard Grieg, will receive power from shore in 2022. Due to a reduction in production from Ivar Aasen and Valhall, and challenges with the electricity supply from Edvard Grieg, our total electricity consumption decreased by 11 percent in 2021. In cases where new energy-intensive equipment is to be purchased, we perform a BAT assessment to ensure that the equipment is as energy- efficient as possible and applies low-emission technology.
During 2021 we have developed and implemented Digital Oilfield (DOF) on Alvheim and Skarv (two out of three assets that do not have power from shore). This digitalisation effort allows us to take out the full potential of energy management in a real time perspective. It provides us with continuous data that enables the asset to operate more energy efficiently, identify best-operational practice, as well as using the forecasting models to predict CO₂ emissions, and thus strengthening the ability to plan ahead to achieve additional reductions.
Scope 1
Our scope 1 emissions include CO₂ , CH₄ and N₂O, and our consolidation approach for emissions, is operational control. Our 2005 baseline for emissions is 1.1 million tonnes of CO₂ , and taking into account our reductions, we emitted a total of 819,083 tonnes of CO₂ (gross) in 2021. Per 2021 Aker BP has reduced the emissions with 26 percent. Our upstream operated methane intensity was 0.02 percent CH₄ in saleable gas, which is significantly lower than the industry average of 0.20 percent as measured by the Oil and Gas Climate Initiative (OGCI 2020 performance data). The majority of our methane emissions originate from non-combusted gas, and are released through cold vent, fugitive sources, and from loading and storage on our FPSO (floating production storage and offloading vessel). As an operating company on the NCS we are only permitted to conduct safety flaring. Flaring in general is very limited. Aker BP ́s work to reduce flaring and quantify emissions of non-combusted hydrocarbon gases has resulted in closed flares on four of five assets. The increase in 46 percent flaring from 2020 to 2021 is due to several shutdowns on Skarv, Valhall, Ula and Alvheim. We also have in place a system for methane leak detection to detect seeps and sweats, described in our CDP response for 2020.
CO2 intensity in Aker BP includes the equity share of CO2 emissions (net) from our non-operated and operated assets divided by the net Aker BP production. It does not include direct emissions from exploration drilling. Aker BP's CO2 intensity target is set at below 5 kg CO2 per barrel of oil equivalent (boe). In 2021, our CO2 intensity was 4.8 kg CO2/ boe. We consider our scope 1 emissions and the intensity metric to be a science-based target, but this approach has not undergone approval by the Science Based Targets initiative. Our CDP response for 2020 explains this target.
Several emission reduction measures were carried out in 2021, yielding a total reduction of 22,738 tonnes of CO2e. Initiatives with "largest" GHG emission reductions are listed below.
Rebundling of compressors on Alvheim enabled increased production and reduced both instability and energy consumption. This measure resulted in 4,000 tonnes CO2 reduced per year due to reduction in number of flare pops as well as normal power consumption.
Rerouting of gas from cold vent to flare was implemented in November 2021. This methane reduction measure will together with an increased tolerance for O2 in cargo tank gas reduce the potential methane emissions, equivalent to approximately 6,600 tonnes CO2 equivalents.
Energy efficiency improvements on Deepsea Nordkapp resulted in additional CO2 emission reductions during drilling of Volund sidetrack and Kameleon Infill West (KIW). The installation of variable speed drives on miscellaneous equipment resulted in better fuel consumption, and thereby reducing our CO2 emissions by 952 tonnes of CO2.
Direct GHG emissions – Scope 1
Use a modern browser to see a chart here.
On Skarv, two of the measures executed in 2021, were related to reduction of injection discharge pressure and export discharge pressure, which resulted in less need for power, hence lower CO2 emissions from power production. These measures resulted in 2,640 tonnes of CO2 reduced. Additionally, the optimised power generation during D04 well intervention and optimisation during gas injections resulted in 3,650 tonnes of CO2 reduced. These reductions are a result of efforts to reduce running of three turbines to two turbines when possible. Two other optimisations related to gas processing and export, led to reduction of 2,500 tonnes of CO2.
The energy efficiency improvements such as use of real time power consumption and battery packs to reduce power peaks on both Ivar Aasen and Ula resulted in a total of 1,871 tonnes of CO2 reduced. The improvements were done on drilling rig Maersk Integrator during production drilling at both assets.
By optimising test frequency of the emergency and essential generators on Ivar Aasen, the asset reduced its CO2 emissions by 48 tonnes of CO2. In addition, Ula reduced its emissions by 477 tonnes of CO2 by reducing multiphase pump operation.
Scope 1 CO2 emissions (excluding exploration) are independently verified by a third-party (DNV), on an annual basis. This verification is required by and performed according to the European Union Emissions Trading System (EU ETS). The verification includes annual check of permit compliance, changes in the monitoring plan, calibrations, corrections, and emission factors.
Scope 2
Aker BP's scope 2 CO₂ emissions are related to purchase of electrical energy from Lundin Energy's Edvard Grieg platform. Edvard Grieg uses dual-fuel low-NOₓ gas turbines to generate energy that is supplied to Aker BP asset Ivar Aasen. In 2022 Ivar Aasen will start receiving power from shore. Valhall already receives power from shore and the energy mix in the Norwegian power supply consists of 98 percent renewable energy sources. Due to the 2 percent of non-renewable energy sources, the power from shore to Valhall results in some GHG emissions. In 2021 our scope 2 emissions decreased due to lower production from Ivar Aasen and challenges with the electricity supply from Edvard Grieg. Our total scope 2 emissions are accounted for in the figure below.
Indirect GHG emissions – Scope 2
Use a modern browser to see a chart here.
Scope 3
Emissions from scope 3 are included in Aker BP's climate strategy and represents a highly prioritised area. Aker BP's scope 3 emissions include upstream categories 1-8 and downstream category 9 according to the GHG Protocol. Aker BP is an upstream company, and other downstream scopes are therefore not included. During 2021 we have continued the process of mapping our scope 3 emissions, resulting in a more detailed overview and understanding of these emissions. We will further continue the process of mapping the scope 3 emission categories that are still not identified, and thus only emissions identified so far are included in the report.
Categories 1 and 2 are the two largest categories, covering all upstream emissions for Purchased goods and services and Capital goods. Along with other operators on the NCS, Aker BP has developed a joint practice for suppliers to report scope 3 emissions within these areas: steel, cement and big bulk chemicals. These areas are considered the main contributors to category 1 and 2 emissions. In 2021, we developed a common methodology to report on scope 3 emissions through Magnet JQS. The database contains relevant scope 3 emission data from suppliers, and we are continuing our work to further map emission data related to steel, cement and big bulk chemicals.
Emissions from vessels are included in upstream category 3 and 4 and downstream category 9. In 2021, emissions from several new vessel categories, such as IMR (Inspection, Maintenance & Repair) vessels (category 3), seismic vessels (category 3) and shuttle tankers (category 9), have been identified. To further improve the quality of emission data from vessels, most vessels operating on behalf of Aker BP are using a fuel monitoring system, resulting in availability of more precise and continuously updated data.
Indirect GHG emissions – Scope 3
Category 1: Purchased goods and services.
Category 2: Capital goods.
Category 3: Fuel- and energy-related activities (not included in scope 1 or 2).
---
Category 4:
Upstream transportation and distribution.
Category 5:
Waste generated in operations.
Category 6: Business travel.
Category 7: Employee commuting.
---
Category 9:
Downstream transportation and distribution.
Emissions from vessels have been reduced since 2019. PSVs represents the vessel category with highest emissions. During 2021, we have implemented several operational measures to improve the energy efficiency of these vessels. We have continued optimising routes and collaborated with other operators on the NCS to reduce the number of vessels operating, and hence emissions. Further, we have been focusing on cleaning the hulls of several vessels, leading to CO₂ reduction. Please refer to the figure below for overview of CO₂ reductions from PSVs (2019-2021)
Several important strategic decisions have been made during 2021. We initiated a process for identification and implementation of climate goals and KPIs for PSVs in 2022. In 2019, we converted two of our long-term PSVs to hybrid configurations by installing batteries. During 2022, we will install batteries on three more PSVs. All our PSVs on long-term contracts operating out of Stavanger have been upgraded to connect to power from shore while in port. During 2022, PSVs operating out of Sandnessjøen, the other supply base where Aker BP has regular activity, will also have this opportunity. In addition, we will continue optimising the fleet across different vessel categories to reduce the total number of vessel days supporting our operations. Both batteries, power from shore and fleet optimisation will lead to important reductions in CO₂ emissions.
In November 2021, Aker BP entered a joint technology project together with one of our strategic partners, Eidesvik AS, and Alma Clean Power, a future Norwegian provider of fuel cells. This project explores the opportunity of installing fuel cells on existing PSVs, aiming to significantly reduce emissions by using ammonia as fuel.
In 2021, we improved our focus on waste handling and related environmental and climate impact. We initiated a separate project that identified necessary waste management improvements throughout Aker BP and resulted in a new tender process for waste management. Suppliers were required to strengthen their efforts towards reducing their climate impact, and to report on scope 3 emissions related to category 5; Waste generated in operations.
Aker BP has offices in five different locations in Norway (category 8 Upstream leased assets), and business travel (category 6 and 7 Business travel and employee commuting) between the offices and to offshore assets is necessary to carry out our operations. During the Covid-19 pandemic, our travel patterns changed and that lead to the reduction of CO₂ emissions related to business travel from 1,644 tonnes in 2020 to 1,376 tonnes in 2021.
Due to offshore operations, helicopter transport is included as part of employee commuting for our offshore employees. Total employee commuting in 2021 led to the emission of 12,142 tonnes of CO2.
Emissions from PSVs
Use a modern browser to see a chart here.
Reduction in CO₂ per ton transported by PSVs(2020-2021)
Air emissions
As previously stated in the Environmental management chapter, our Environmental Policy sets our standards with regard to continuously managing and reducing our environmental footprint.
The policy details our commitment to reduction of non-GHG emissions to air, NOₓ, SOₓ and non-methane volatile organic compounds (nm-VOC). Our asset-specific KPIs include NO X and nm-VOC. Emission limits are defined in our discharge permits issued by the government.
Emissions of NOₓ decreased with 30 percent from 2020 to 2021. The reduction is mainly due to lower drilling activity in 2021 and the BLUNO X Selective Catalytic Reduction (SCR) technology for flue gas cleaning on drilling rigs Maersk Integrator and Deepsea Nordkapp.
Water and effluents
Aker BP's Environmental Policy commitments ensure that we work systematically to reduce our environmental footprint to a minimum, this includes our discharges to sea as well as use of resources such as water.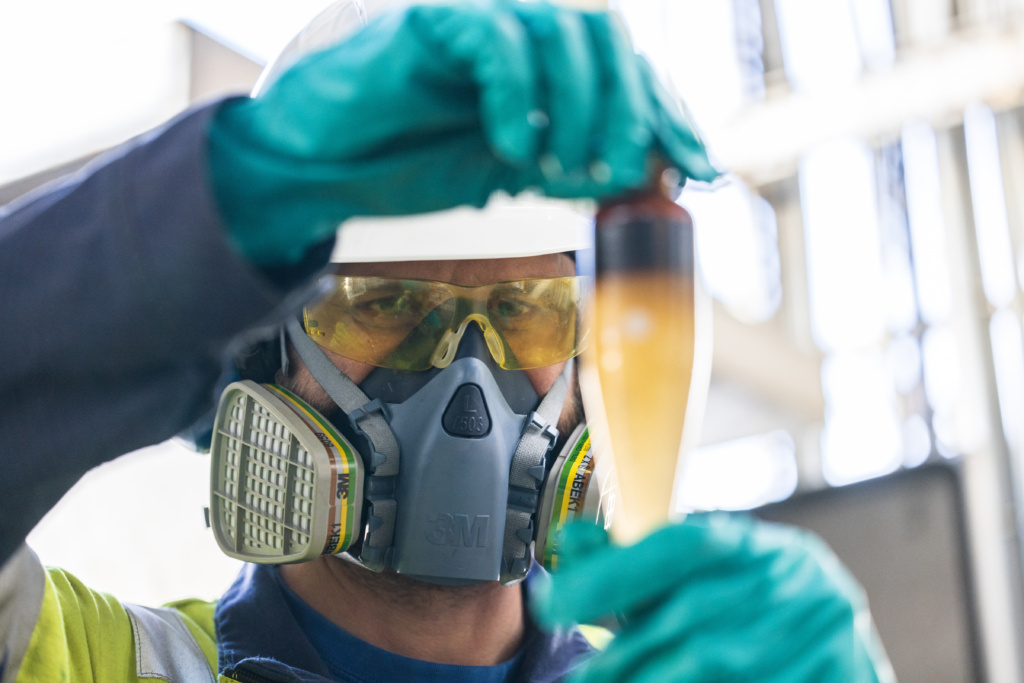 We are committed to reduce discharges to sea and emissions to air, prevent unnecessary waste, sort, recycle and recover waste as much as possible and reduce use of freshwater consumption by utilising freshwater makers at operating fields. This is performed by using Best Available Techniques (BAT), NORSOK standard S-003 -Environmental Care and following the principles in the ISO 14001 environmental management system.
Aker BP has no operations for fractured wells onshore.
Freshwater
Aker BP has not withdrawn water from areas in water stressed regions. None of our operations are located in water- stressed environments. All our operations are situated on the Norwegian Continental Shelf (NCS) and our use of freshwater is limited.
Freshwater withdrawn is third party water from the onshore public water supply. This freshwater is delivered by supply vessels to our offshore facilities. The source of the public water supply is surface water. Water is not a scarce resource in Norway or a material topic for Aker BP, hence not a high risk and no managerial or board-level responsibility is required.
According to the NEA, 6 percent of Norway is covered by freshwater and our sea areas are six times the size of our land areas. The environmental impacts from our water withdrawals are considered low. The water withdrawn and delivered via supply vessels is mostly used for service water and drill water and is also available for emergency drinking water deliveries. Aker BP collaborates with the supply vessels to ensure that freshwater withdrawn, but not used on our installations, is utilised by the supply vessel for operations that demand freshwater, such as cleaning drinking water tanks or other operators on the NCS. This collaboration contributes to further reducing the withdrawal of freshwater from the public water supply onshore.
Total water withdrawal by source
Total: 17,886 megalitres
Use a modern browser to see a chart here.
*Freshwater is third party water from public water supply(surface water).
The Ula asset has been supplied with freshwater produced from sea water by desalination at the supply vessel for many years. At the end of 2020 Ula started to produce the necessary freshwater on its own, and significantly reduced its need for freshwater resources.
All installations have emergency water in bottles to cover the water requirement for one-person up to three days (number of days depends upon where the asset is located on the NCS). The bottled water is intended for drinking water in emergency situations i.e., if the asset for some reason can not produce its own water for a period. In a situation where the production of drinking water is not available over time, drinking water will be supplied from shore via the supply vessel.
The production and quality of freshwater produced or delivered offshore is monitored closely and regulated by our business management system through our drinking water manuals. Daily, monthly and yearly tests are performed on pre-defined parameters to ensure that the freshwater is safe for the consumers. The water sample results are analysed by independent accredited laboratories. All quality deviations are registered and handled in Aker BP's reporting system, Synergi. Risk and vulnerability analysis and internal audits are performed for all water maker systems and drinking water distribution system on our offshore installations.
Freshwater production is a prioritised activity at our assets to avoid use of bunkered freshwater from shore. There are routines in place to produce as much freshwater as possible, mainly for drinking water purposes. Produced drinking water that is not used for human consumption is recycled for use to other freshwater consumptions such as service- and drill- water to minimise use of bunkered water from shore for these applications. The amount of produced freshwater on our installations are illustrated below.
Produced freshwater per asset
Use a modern browser to see a chart here.
Seawater
Seawater is readily available and withdrawn and used in our operations. Aker BP use seawater for cooling and firefighting purposes, seawater injection in the reservoir for pressure support to increase oil production and to generate freshwater.
Produced water
We are committed to prevent, reduce and manage our effluents. Our approach to generation and handling of effluents aims for the lowest possible environmental impact according to our Environmental Policy.
Aker BP has implemented the following requirements for handling of produced water in new field developments and major projects and modifications (in priority order):
Re-injection of produced water for pressure support in fields where pressure support is needed.
Re-injection of produced water with no pressure support(disposal)
Produced water discharge to sea
Produced water treatment and discharge is designed to be in accordance with BAT, where the objective is to achieve the lowest possible concentration of dispersed oil in produced water that is discharged to sea. Discharged produced water is regulated by the NEA and the absolute maximum threshold value is 30 mg dispersed oil/L of produced water per month (weighted average). Discharge of drainage water has the same threshold value as produced water. Chemicals are regulated with discharge permits. Produced water is discharged to the North Sea from Alvheim, Ivar Aasen, Ula and Valhall, and to the Norwegian Sea from Skarv. Produced water discharge is risk-rated by calculating an environmental impact factor (EIF). The EIF should be < 10 for minimal environmental risk. Measures to reduce discharge are implemented if the EIF is between 11-100. Effluents (produced water) are managed through daily measurements of oil-in-water concentration or continuous online measurements.
Produced water treatment and re-injection are high priorities in the organisation. Two out of five of our fields reinject produced water into the reservoir for pressure support. This measure minimises the amount of produced water that is discharged. On all our fields produced water is discharged to sea after sufficient treatment according to the best available techniques and regulatory requirements.
The total volume of produced water has increased over the past three years. This is mainly due to the type of fields in our portfolio. Older fields have a higher water cut when producing oil and gas. In 2021, 92 percent of the produced water was reinjected on Alvheim, and 88 percent on Ivar Aasen. Aker BP's total volume of discharged produced water was 17 percent higher in 2021 than in 2020. This is mainly due to higher water cut on our oldest operating field, the Ula field and lower re-injection of produced water on Ivar Aasen caused by operational limitations.
We have ongoing projects to improve oil and water separation and the re-injection rate and set annual internal targets for re-injection of produced water and maximum weighted oil in produced water below legal maximum limit. If a significant spill occurs, it is investigated, and corrective actions are assigned. Lessons learned from incidents are shared across the assets and with our alliance partners.
In 2021, Ivar Aasen has focused on achieving the ambition of substituting red and black chemicals in addition to optimising consumption of all chemicals. As a result of this focus, Ivar Aasen has reduced discharge of red components by 30 percent compared with 2020.
Aker BP experienced no incidents of hydrocarbon spills greater than 0.10 m³ in 2021. We had five incidents of chemical spills greater than 0.10 m³.
Of the five incidents greater than 0.10 m3 , two occurred on the Tambar platform. One related to discharge of 0.15 m³ hydraulic fluid due to failure in fittings and the other was discharge of 1.0 m³ yellow category chemical, due to leakage in a pack box. One incident on Ula lead to discharge of 0.25 m³ corrosion inhibitor (yellow category) to sea due to failure in the set up of an isolation valve.
One incident on Valhall related to the deluge system, resulted in discharge of 2,20 m³ firefighting foam (yellow chemical). The last incident greater than 0,10 m³ happened on Ivar Aasen, and lead to discharge of 0.22 m³ hydraulic fluid due to leakage in sea water lift pump.
Aker BP's oil spill management includes trained personnel who work purposefully to prepare for and mitigate possible oil spills. Risk assessments are performed, and oil spill emergency preparedness plans are in place. Aker BP has also actively participated in the Norwegian Clean Seas Association for Operating Companies (NOFO) since 2001. NOFO is specially trained to manage oil spill response operations and assumes a key role with regard to mitigation measures and oil spill recovery at sea in cases where member companies are responsible for an oil spill. We work together with NOFO to make sure our oil spill contingency measures are dimensioned for our needs and use, making sure that we are prepared at all times.
Oils spills (>0.1m³) 2021
Chemical spills (>0.1m³) 2020
Chemical spills (>0.1m³) 2021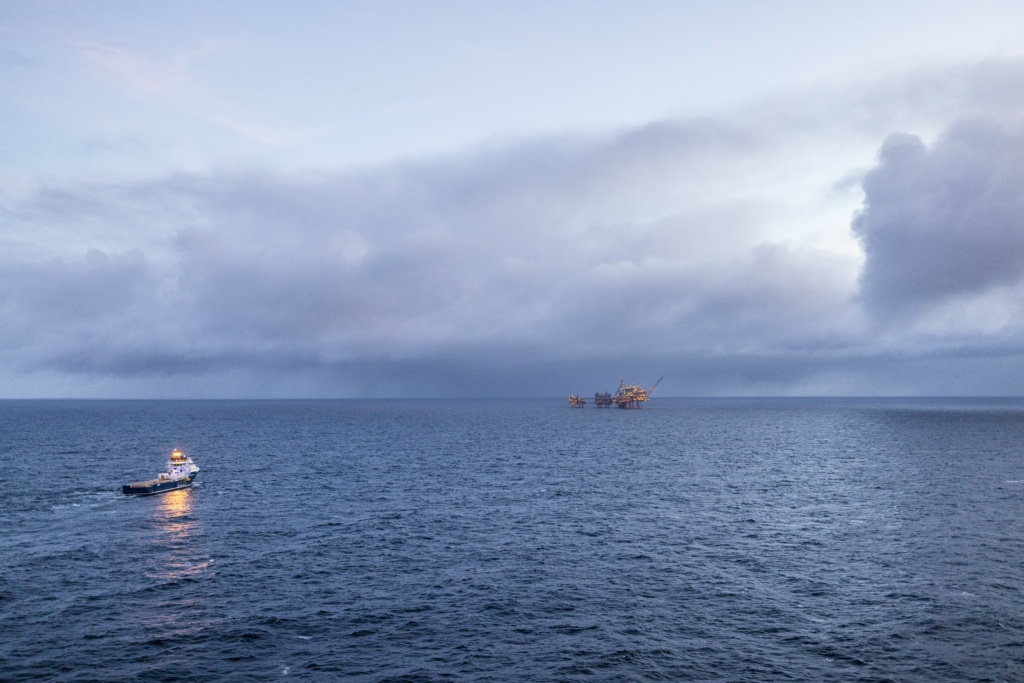 Biodiversity
Aker BP's exploration and production operations are concentrated in marine surroundings on the NCS.
We are committed to conserving biodiversity and habitats in the places where we operate. Biodiversity is considered and managed from early phase development to decommissioning.
Through our Environmental Policy, we have formalised our commitment to manage our environmental impact and preserve biodiversity and sensitive areas in the marine environment of particular importance. Aker BP acquire information about the ecosystems in areas where we have activity and map out what potential effects and impacts our activities can have. This information is used when and how we carry out the activities. We have a special focus on vulnerable coastal habitats, spawning grounds for fish, areas that are important for seabirds, coral reefs, and other vulnerable seabed habitats, and impacts on fisheries. Our environmental responsibility also includes our contractors, and we have a duty to ensure that they comply with all applicable environmental regulations.
The NCS is among the most extensively mapped, analysed, and ecologically managed marine areas in the world. Norwegian authorities apply regulation and plans, stating operational conditions for activities within an area. Protected areas are defined were no industrial activity, or only limited activity, is permitted. Upon approval of activity, operational conditions for licences within the area are defined, such as periods with drilling restrictions, extended biological monitoring and oil spill response measures.
NEA regularly measures the condition of biological diversity in Norway through the Nature Index. This provides an insight into the development of the ecosystems, for selected species groups and themes.
NEA has strict regulations and aims to ensure water quality in marine areas. Aker BP implements and follows Norwegian regulations and guidelines. We set acceptance criteria per group of species and use a risk-based approach to finalise the environmental impact assessment.
All petroleum related activity on the NCS is subject to public consultation and authority approval, through an environmental permit hearing process. Stakeholders, local communities and interested parties are entitled to comment on environmental and social issues and give recommendations to the authorities on planned activities. This hearing process is of value for ensuring co-existence between industrial activities in the area.
None of Aker BP's operational sites or exploration activity are in or near protected areas. Biodiversity protection measures are described and framed in our Environmental Policy and environmental management system.
Aker BP works to prevent and minimise our impact on sensitive species and population dynamics through work in accordance with our Environmental Policy, internal procedures and plans. We perform environmental analyses to assess the relevant risks in the area and what impact our activities will have on birds, fish and marine mammals (including sea-bed fauna and corals, coastal habitats, fish spawning and seabird breeding and feeding grounds). We plan our wells based on environmental risk analyses in accordance with existing industry standards, and we reduce the consequence of potential oil spills by implementing high oil spill preparedness in collaboration with The Norwegian Clean Seas Association for Operating Companies (NOFO).
Aker BP also has an overview of the red-listed species from the International Union for Conservation of Nature in areas near exploration and operational sites, and this is included in the environmental risk assessment. Biodiversity priority areas (referred to as SVO in Norwegian) are known and management plans for these areas are created with additional analyses that ensure minimal impact on and protection of natural habitats.
For several years Aker BP has supported the Seatrack research programme that aims to track the movement of several migrating seabird species which have experienced negative population trends over recent decades. The data has been included in the seabird dataset as input to the environmental risk analysis. We use the improved dataset to plan/steer the period of our drilling operation so that we avoid conflict with migrating seabirds, and to choose the correct dimensioning oil spill response.
To verify the biodiversity impact from our operations, the oil and gas industry in Norway performs sediment analyses and water-column monitoring, which allows us to detect negative impacts. The sediment surveys are done in three-yearly intervals by region. In 2021, Aker BP had sediment surveys in two regions covering our Alvheim and Ivar Aasen fields in the central North Sea and Skarv in the Norwegian Sea. In addition, we covered most of the NOA field in a baseline sediment survey. The water column monitoring is surveyed offshore on a pre-selected field every third year followed by a R&D programme for two years.
Production drilling
As part of the development of the Gråsel subsea-tie back to Skarv, existing infrastructure on the sea bed was re-used through the Skarv BC Template. The production well on Gråsel re-used an available well slot. This solution minimised the impact on the sensitive sea-bed species (corals and sponges) from construction work. To minimise the impact of the drilling operations, the drilling rig was positioned by DP. The impact on corals of the discharges of cuttings from Gråsel was minimised using a cuttings transport system. The location of the discharge point was placed using a cuttings distribution model to minimise the potential impact on the corals nearby. To verify and improve the cuttings distribution model, sediment traps were placed near some of the corals.
Exploration wells 2021
Four exploration wells were drilled in 2021, one in the Barents Sea and three in the North Sea. The wells in the North Sea were drilled in mature areas in the vicinity of producing fields with no identified seabed biodiversity value. The seabed is flat and consists of mostly sand. Stangnestind was drilled in the Barents Sea. Prior to drilling, the seabed was examined by sampling sediments and filming the seabed. The seabed was flat and relatively homogenous consisting of mud clay with some occasional boulders, in addition to trawl tracks. The fauna was homogenous with some single corals (Gersemia sp.) and low density of soft bottom sponges scattered in the area. No red listed species were identified. Based on Seatrack data, the operation period was steered to avoid drilling during the period of seabird migration in early autumn.
Project development 2021
The impact assessment process for NOA-Fulla was initiated in 2021 and a Impact Assessment submitted for public hearing in Q4. Environmental reviews and BAT-studies have been conducted and will form valuable input to the Impact Assessment scheduled for 2022. The baseline survey at NOA-Fulla was also performed in 2021.
Waste
Aker BP's operational activities are based offshore, and all significant production waste, both hazardous and non-hazardous, is generated at our fields.
The largest fractions of hazardous waste, in terms of weight, come from our drilling operations and is oil-based drilling fluid. When we drill wells, the rock cuttings contaminated with drilling fluids are carried back to the surface. The main category for non-hazardous waste is metal.
We handle all production waste such as drilling mud and cuttings by following the same waste handling hierarchy:
Prevent occurence
Reuse
Recycle/recover
Reinject
Treat and dispose/discharge
To strengthen our focus on generating less waste and increasing the utilisation of resources, Aker BP is continuing our focus towards a more circular economy. We aim to extend the lifetime of already purchased equipment or materials by maintaining material integrity where feasible.
In order to prevent occurrence of hazardous waste, both oil-based and water-based drilling fluids are reused as long as the technical quality of the drilling fluid is intact and will therefore remain part of the value chain. Most of the oil-based drilling fluids used are recycled when drilling between sections and / or returned to the drilling fluid supplier who reconditions the drilling fluids for reuse. The recycling rate is 70-80 percent for oil-based drilling fluids and 50-60 percent for water-based drilling fluids and these measures contribute to our circularity efforts. In other cases, the drilling fluid is sent onshore for treatment and disposal. The treated oil-based drilling fluid consists of an oil, water and solid part. About 15 percent of the waste stays in the value chain as recycled, 70 percent goes to landfill, and the remaining 15 percent is treated water to discharge. The water fraction is treated prior to discharge and the volumes are controlled by authority permits held by the onshore waste disposal contractor. Both hazardous and non-hazardous waste is transported onshore. The majority of the waste is handled in Norway and regulatory rules are followed.
To reduce significant environmental impact and waste generated, Aker BP seek to reduce use of resources by reusing existing infrastructure. As we did on the Gråsel template where we reused existing seabed infrastructure. Utilisation of available capacity in existing offshore facilities is an example of Aker BP's efficient solutions in terms of resource utilisation, economy, and environmental footprint.
We regard decommissioning as an area with potential and opportunities aligned with the principles of keeping products and materials in use. The "Closure and rehabilitation" chapter of this report details our decommissioning processes and provides an overview of our decommissioning activities in 2021.
The figure below illustrates the handling of all hazardous and
non-hazardous waste, generated by Aker BP in 2021.
Handling of all waste
Handling of hazardous waste
Use a modern browser to see a chart here.
Handling of non-hazardous waste
Use a modern browser to see a chart here.
Closure and rehabilitation
Aker BP's current asset portfolio consist of steel structures, and FPSOs. These installations will be removed in their entirety after the fields have been shut in and wells have been permanently plugged and abandoned.
The disposal of these structures and vessels will be subject to cessation plans approved by the authorities and handled by receiving facilities.
In connection with Plans for Development and Operation (PDO) which are submitted for approval ahead of project execution, the disposal of the facility is described, including the estimated cost. PDOs are approved by the Ministry of Petroleum and Energy (MPE) and for the larger projects also by the Parliament ahead of executing a project.
A Cessation plan is prepared as a field or parts of a field is planned to be taken out of use. This plan consists of two elements, the Disposal Plan and the Impact Assessment. The impact assessment elements go through several steps before finally being approved:
Development of impact assessment programme
Public hearing to a wide range of external stakeholders
Approval of the impact assessment programme by the MPE
The impact assessment for the decommissioning scope is executed and completed
The impact assessment together with the disposal plan is issued to the MPE for final approval
When a decision has been made to close down a field and/or a facility, the work with the cessation plan shall start no later than 3 years before end of field life. Aker BP currently has three active cessation plans:
Removal of the 'Old Valhall Developments', which includes

Removal of Drilling Platform topside (2022)
Removal of PCP topside (2022)
Removal of Drilling Platform jacket to 45m below sea level (2022)

Remainder of the jacket structure will be removed in connection with the final Valhall field centre decommissioning in 2050+
The drill cuttings deposits will remain in place

Removal of Process and Compression Platform jacket (2025)

Removal of Hod topside (normally unmanned wellhead platform) and jacket (2026)
Removal of 2/4-G jacket (2025)
The decommissioning of these facilities does not have a direct impact on employment for these reasons:
The Drilling Platform, Process and Compression Platform and Quarters Platform installations are all replaced with new facilities on the Valhall field
The Hod topside was shut in in 2012 and is currently being replaced with a new Hod wellhead platform that will be put into use in 2022
2/4-G is a steel jacket structure – the topside was removed in 2016
In 2021 the QP jacket on Valhall was removed. As the QP location is still within the 500m safety zone of the Valhall field, it will not be available for other commercial use until the entire field has been decommissioned.
The QP topside weighing close to 4,000 tonnes was removed in 2019 and was dismantled at the Aker Solution yard at Stord during 2020. The final report demonstrates a recycle rate of 90 percent of the total weight. Close to 10 percent went to landfill, and the remaining fractions were EE waste and hazardous waste for recycling. All final disposal of waste categories is tracked and documented with receiving facility and weights.
Of the total jacket weight, nearly 100 percent is recycled. As the steel quality in jackets is high, the jacket steel is blended in steel factories with other qualities to form new steel products.
The old Valhall Injection Platform crane has been dismantled and disposed of in 2021. Total recycling rate for this project was 99.6 percent. All metals, such as alloy steel, aluminium and duplex steel, has been delivered to recycling and total weight recovered was 107 tonnes. Only 0.4 percent was not suited for recycling and handled as hazardous waste.
SUSTAINABILITY DATA
ENVIRONMENT
302. ENERGY
Energy consumption
2019
2020
2021
Units
Total fuel consumed from non-renewable sources (1*)
13,824,322
13,665,790
13,565,947
GJ
Total fuel consumed from renewable sources
0
0
0
J
Electricity consumption (2*)
509,503
566,175
536,878
MWh
Electricity sold
0
0
0
MWh
Total energy consumption from non-renewable fuels and
el. energy
15,704,022
15,498,707
GJ
1* From gas and diesel
2* Electricity from Edvard Grieg to Ivar Aasen and power from shore to Valhall
303. WATER AND EFFLUENTS
| Water | 2019 | 2020 | 2021 | Units |
| --- | --- | --- | --- | --- |
| Produced water withdrawal total volume (3*) | 14,063 | 16,100 | 17,585 | ML |
| Re-injected produced water volume | 6,552 | 10,407 | 10,712 | ML |
| Percentage of produced water re- injected | 47 | 65 | 61 | % |
| Produced water discharged to sea volume | 7,595 | 5,599 | 6,767 | ML |
| Percentage of produced water discharged | 53 | 35 | 39 | % |
| Hydrocarbon discharged to sea within produced water | 150 | 100 | 140 | tonnes |
| Total freshwater withdrawn (4*) | 280,796 | 189,826 | 163,105 | m3 |
| Share of production in areas of high water stress | 0 | 0 | 0 | % |
| Total sea water withdrawn | – | – | 138 | ML |
| Total sea water discharge | – | – | 119 | ML |
3* ML=megaliters
4* Wording in 2019 and 2020 report was "freshwater usage". Corrected to "freshwater withdrawn" in 2021 report.
305. EMISSIONS
| Scope 1 | 2019 | 2020 | 2021 | Units |
| --- | --- | --- | --- | --- |
| Direct GHG emissions – all gases (5*) | 939,480 | 842,295 | 852,129 | tonnes CO2e |
| CO2 (Carbon dioxide) | 911,105 | 816,376 | 819,083 | tonnes |
| CH4 (Methane) | 1,043 | 991 | 1,065 | tonnes |
| N2O (Nitrous oxide) | 8 | 4 | 5 | tonnes |
| Methane Intensity (6*) | 0.03 | 0.03 | 0.02 | % CH4/saleable gas |
| Reduction of GHG emissions | 22,587 | 77,650 | 22,738 | tonnes CO2e |
5* 2019 and 2020 numbers calculated by AR4. 2021 numbers are calculated based on AR6 factors.
6* Based on share operated assets calculated as a percantage share of saleable gas production
| CO2 | 2019 | 2020 | 2021 | Units |
| --- | --- | --- | --- | --- |
| Equity share CO2 emissions (7*) | – | 346,955 | 366,120 | tonnes CO2e |
| Net production | – | 77,101 | 76,431 | mboe |
| CO2 intensity | 6.9 | 4.5 | 4.8 | kg CO2/boe |
7* Based on equity share of non-operated and operated assets (net) calculated as a share of marketed equity share of oil and gas production
| Scope 2 | 2019 | 2020 | 2021 | Units |
| --- | --- | --- | --- | --- |
| Indirect GHG emissions (8*) | 89,627 | 97,024 | 81,408 | tonnes CO2e |
8* 2021 number includes GHG emissions related to the energy mix in power from shore to Valhall. Climate declaration factor from NVE, used to calculate
emissions: 8gCO₂e/kwh (2020 factor is used, as the 2021 factor is not available until mid-2022).
| Scope 3 | 2019 | 2020 | 2021 | Units |
| --- | --- | --- | --- | --- |
| Total GHG emissions (9*) | – | 223,533 | 285,981 | tonnes CO2e |
9* 2021 and 2020 numbers are not directly comparable as more extensive scope 3 mapping has been conducted in 2021.
| Non-GHG emissions | 2019 | 2020 | 2021 | Units |
| --- | --- | --- | --- | --- |
| NOX (Nitrogen oxide) | 2,818 | 2,389 | 1,684 | tonnes |
| SOX (Sulphur oxide) | 63 | 40 | 39 | tonnes |
| Non-methane VOC | 3,204 | 2,392 | 1,947 | tonnes |
| Biogenic CO2 emissions | – | – | – | tonnes CO2e |
306.WASTE
| Hazardous waste | 2019 | 2020 | 2021 | Units |
| --- | --- | --- | --- | --- |
| Total weight hazardous waste | – | 42,067 | 40,516 | tonnes |
| Reuse | 591 | 268 | 506 | tonnes |
| Recycling | 73 | 4,437 | 1,800 | tonnes |
| Recovery, incl. energy recovery | 3,044 | 1,688 | 2,464 | tonnes |
| Landfill | 7,296 | 18,099 | 13,442 | tonnes |
| Discharge (10*) | – | 17,574 | 22,304 | tonnes |
10* Discharged waste mainly consists of cleaned water fraction from oil based mud.
| Non-hazardous waste | 2019 | 2020 | 2021 | Units |
| --- | --- | --- | --- | --- |
| Total weight non-hazardous waste | – | 1,803 | 1,842 | tonnes |
| Reuse | 0,8 | – | – | tonnes |
| Recycling | 1,605 | 925 | 1,000 | tonnes |
| Recovery, incl. energy recovery | 1,147 | 793 | 724 | tonnes |
| Landfill | 182 | 85 | 119 | tonnes |
Waste diverted from/to disposal
2019
2020
2021
Units
Total weight of waste diverted from disposal (11*)
–
8,111
6,494
tonnes
Total weight of hazardous waste diverted from disposal
–
6,393
4,770
tonnes
Total weight of non-hazardous waste diverted from
disposal
–
1,718
1,724
tonnes
Total weight of waste diverted to disposal (12*)
–
35,758
35,865
tonnes
Total weight of hazardous waste diverted to disposal
–
35,673
35,746
tonnes
Total weight of non-hazardous waste diverted to disposal
85
119
tonnes
11* Waste diverted from landfill Includes waste that is reused/recycled/recovered
12* Waste diverted to disposal includes waste that is discharged or sent to landfill
| Significant Spills | 2019 | 2020 | 2021 | Units |
| --- | --- | --- | --- | --- |
| Number of oil spills to sea (>0,1 m³) | 0 | 0 | 0 | – |
| Oil spills (>0,1 m³) | 0 | 0 | 0 | m³ |
| Number of chemical spills to sea (>0,1 m³) | 3 | 6 | 5 | – |
| Chemical spills (>0,1 m³) | 2.0 | 10.5 | 3.9 | m³ |
| Number of hydrocarbon leaks (>0,1 kg/s) | 0 | 0 | 0 | – |
| Total mass of hydrocarbon leaks (>0,1 kg/s) | 0 | 0 | 0 | kg |
| Flared hydrocarbons | 23,978,199 | 14,584,962 | 21,314,242 | Sm3 |
307. ENVIRONMENTAL COMPLIANCE
| | | | | |
| --- | --- | --- | --- | --- |
| | 2019 | 2020 | 2021 | Units |
| Total monetary value of significant fines | 0 | 0 | 0 | $ |
| Number of non-monetary sanctions for non-compliance | 1 | 0 | 0 | – |
307. ENVIRONMENTAL COMPLIANCE
| | | | | |
| --- | --- | --- | --- | --- |
| | 2019 | 2020 | 2021 | Units |
| New major suppliers screened using environmental criteria | 100 | 100 | 100 | % |