Economic impact
Annual strategy process
The management approach starts with our vision of becoming the leading independent exploration and production company. This vision is founded on our strategic belief that Aker BP can and will play a key role as a provider of low-cost, low-carbon oil and gas in the energy transition and beyond.
Our ability to set and achieve our strategic ambitions depends on our ability to detect and understand the external context. Therefore, we continuously monitor the external environment, assessing the key drivers underlying the commodity markets, technological trends, and competitive forces. Recognising that the future is uncertain, we use multiple future scenarios to assess the resilience of our strategy.
An annual strategy process in the first half of each calendar year assesses the current state of the company in relation to the vision and reviews the focus areas for the coming years. The strategy is sanctioned by the Executive Management Team (EMT) and the Board of Directors. This process is repeated in each business unit in the second half of the year, which yields a set of prioritised initiatives with corresponding Key Performance Indicators (KPIs) for the next year, both at a corporate level and per individual business unit. The company's KPIs, targets and prioritised initiatives are approved by the Board of Directors. Each member of the EMT is responsible for the performance of their respective business units. A dedicated performance management system is used throughout the company to report and monitor progress on the initiatives and KPIs. Climate strategy is an integral part of the described annual strategy process.
Climate objectives and actions are formally embedded into Aker BP's strategy and decision-making. The Board of Directors has ownership of climate-related objectives in Aker BP's climate strategy, and reviews and guides the major action plans related to investment decisions for climate initiatives. The CEO and EMT performance evaluations include an evaluation of progress and results on the climate related KPIs and initiatives. The company's performance on the CO₂ emission intensity KPI and its deliverables on specific CO₂-reducing projects are assessed continuously throughout the year. The performance of these two items, along with other company KPIs and initiatives, feed into the Aker BP bonus programme. A monetary reward is calculated based on company performance and is paid out to all permanent employees and, under some circumstances, certain temporary employees.
Creating shared value
Creating shared value is the priority that is firmly embedded in Aker BP's Sustainability Framework. Aker BP creates direct and indirect economic impact through producing low-cost, low-carbon oil and gas, returning value to the government and our shareholders in the form of taxes and shareholder returns, sharing knowledge and experience with new industries, contributing to local communities by creating jobs, supporting local businesses, growing competence and promoting diversity, working on innovative technology and leveraging alliance models to find sustainable solutions to industry challenges.
Aker BP creates substantial long-term value from the natural resources available to us. We cannot influence the consumption of fossil fuels, but we have an important role to play in the energy transition. By producing cost-efficient oil and gas we contribute to ensuring that the world has access to affordable and reliable energy. By reducing emissions from our activities, we contribute to a reduced global footprint. The value creation achieved by Aker BP is distributed to our owners and the society in the form of shareholder returns and taxes. In Norway, petroleum is considered a national resource, and the tax system has been designed in a way that ensures that the maximum possible value creation accrues to the Norwegian state, so that it can benefit society as a whole. Under the Norwegian petroleum taxation system, oil and gas companies are subject to a supplemental tax on petroleum taxable income of 56 percent, in addition to ordinary corporate income tax at a rate of 22 percent, resulting in a total marginal tax rate of 78 percent. Because of the extraordinary returns on production of petroleum resources, these payments represent a significant share of the state's revenues. This revenue finances the Norwegian welfare system, and the government can utilise this profit to drive the initiatives needed to fulfil Norway's climate pledges and goals. As such, the taxes we pay play an important role in financing the transition to a low-carbon society.
For every NOK 100 in increased profitability,
NOK 78 is returned to the community in taxes
Our goals
Five key focus areas are established to guide us toward achieving our vision.
Aker BP's value creation and distribution
Taxes/payments to the Government
Payments for goods and services
Employee wages and benefits
All figures are net to Aker BP, except for employee wages and benefits that relates to gross payroll expenses for all employees in Aker BP.
In addition to the tax payments to the state, we pay dividends and generate shareholder returns to our shareholders. Aker BP's two main owners, Aker ASA and BP p.l.c., are both committed to making a positive contribution to the energy transition, through their investments in renewables and green technologies. For Aker BP, this is a truly unique position and an opportunity to contribute to the energy transition without compromising our pure play E&P strategy. We contribute by sharing knowledge and providing capital that our owners reinvest in renewable energy and new industries. Aker BP's largest shareholder is Aker ASA – an industrial investment company which has been expanding its position within digital, renewable and low-carbon technology sectors. Within digital, Aker ASA's holdings include an industrial software company – Cognite, and a newly established software application company – Aize. Within renewable and green technologies, through its majority ownership in Aker Horizons, Aker ASA is currently positioned within onshore and offshore wind, solar energy and hydrogen, as well as hydropower and transmission technologies. Aker ASA's diversification into these sectors is to a large extent made possible by the dividend contribution resulting from Aker BP's upstream operations, which is the largest asset in the Aker ASA portfolio.
Tax strategy
Aker BP's current oil and gas assets are all located in Norway and are within the Norwegian petroleum tax regime.
Our business activities generate a substantial amount and variety of taxes. We pay corporate income taxes, employment taxes, indirect taxes such as VAT and excise duties, and we collect and pay withholding tax.
Aker BP is committed to comply with tax laws in a responsible manner, professionally executed tax compliance and tax planning, and a constructive and open relationship with tax authorities. We report our payments to authorities in accordance with the Norwegian Accounting Act as part of the Annual Report.
Aker BP's Tax Strategy aligns with the fundamental principles for responsible behaviour described in our Code of Conduct. The CFO owns and implements our Tax Strategy, which is reviewed by the Audit and Risk Committee. The CFO is also responsible for ensuring that policies and procedures that support the strategy are in place, maintained and applied consistently.
Sharing know-how and driving collaborations
We also contribute knowledge, data and experience to new industries, creating growth and improvement beyond our own business.
New start-up companies cooperate with us. We share knowledge and experience so that new industry can flourish. In return, we gain access to future-oriented solutions and technology.
An example of Aker BP taking a lead in sharing know-how is our digitalisation strategy. As one of the industry's front-runners in digitalisation, we made it our priority to share learnings from our digital maturation journey with our peers, suppliers and other industries. Cognite, a company we co-founded to help us liberate and contextualise data, serves as an excellent example of how we work. Since 2018, Cognite and Aker BP have been developing Cognite Data Fusion™ (CDF), an industrial data platform that makes Aker BP data available to approved users inside and outside the company, and transforms how we work across the domains. Aker BP placed Cognite resources in key roles within the digitalisation programme to transfer E&P knowledge through close collaboration between our subject matter experts and Cognite's product developers. We have funded the birth of CDF as the first customer, and, as the adoption of CDF continues to grow, we continue working and exchanging lessons learned from digital innovation with other companies. Today, Cognite's products are delivering tangible results to a wide range of companies, not only within oil and gas, but also across broader renewable energy and manufacturing sectors. Mirroring the success achieved through a close collaboration with Cognite, we continue supporting digitalisation of the E&P industry, and are working with Aize, a start-up industrial software company, on digital solutions for our NOA Fulla development. Aker BP and Aize, together with strategic partners, Aker Solutions and Cognite, are working on solutions for a fully digitalised project execution model. The objective is to increase project quality, collaboration, and significantly reduce the number of engineering and construction hours. When NOA Fulla starts production in 2027 it will be the most digital and advanced offshore field in Norway. The work delivered in the digitalization program will also be an important part of the foundation for efficiency and OPEX reductions in the operations phase. The concept developed for NOA Fulla is scalable to other oil and gas companies and industries, supporting Aker BP's ambition to contribute with data, know-how and technology to other industries.
In Aker BP, we believe that the best efforts are team efforts. Therefore, partnerships have been an integral part of how we do business and create shared value. In 2021, a particular focus was given to working collaboratively with our partners on solutions enabling emissions reduction. We continued working with our Platform Supply Vessel (PSV) partners, Solstad Offshore, Eidesvik Offshore and Simon Møkster Shipping, on battery technology to reduce emissions on our existing fleet of PSVs. Following a series of upgrades, at the start of 2022, Aker BP's base fleet of five supply vessels will have batteries installed. The use of batteries can reduce emissions from vessels by 10-12 percent, and will be able to reduce our CO₂ emissions by more than 4,200 tonnes per year. In 2021, Eidesvik Offshore and Aker BP have extended the collaboration further with the establishment of a new project that will evaluate new technologies and solutions for converting existing supply vessels to low and/or zero emission units. Progress was also made in our Stimulation and Intervention Alliance. The Island Patriot stimulation vessel was outfitted with a connection unit, allowing the vessel to connect to power from shore while in port and switch off its own engines. Estimates show that this could enable a CO₂ reduction up to 840 tonnes over the course of a typical year.
Aker BP's responsible tax principles
Tax compliance
---
Clear responsibility to comply with tax laws and regulations.
Timely and accurate filing of tax returns.
Active handling of tax correspondence and tax disputed with authorities.
Paying the right amount of tax at the right time.
Tax planning
---
Any tax planning undertaken will support our business and reflects commercial and financial activity.
We do not engage in artificial tax arrangements.
We seek to conduct transac- tions with related parties on an arm's length basis and in accordance with current OECD principles.
Tax incentives and exemptions are sometimes implemented by government and fiscal authorities in order to support investment, employment and economic development. Where they exist, we seek to apply them in the manner intended.
Governmental relationships
---
We aim to build and sustain relationships with fiscal authorities that are constructive and based on mutual respect.
We work collaboratively with tax authorities wherever possible to resolve disputes and obtain certainty, but we are prepared to litigate when we disagree with a ruling or decision.
We engage with governments on the development of tax laws either directly or through trade associations and other similar bodies as appropriate.
Tax risk management
---
We do not prescribe acceptable levels of tax risk.
We seek clarity within the law and evaluate the potential tax outcomes of our business transactions and we escalate tax risks and uncertainties to the relevant level within Aker BP to determine the appropriate management response.
We follow Aker BPs risk management system as part of our internal control process.
We identify, assess and manage tax risks and account for them appropriately.
Material tax risks and disputes are reported to the ARC on a periodic basis, where CFO represents management with regards to how they are managed, monitored and assured.
Supporting local communities
We are committed to creating long-lasting shared value for the communities we are part of.
We invest in community projects that align with local needs and our business activities, and we have prioritised goals that relate to economic development and education. We contribute to stimulating local engagement, by creating jobs, supporting local businesses, and by developing competence. A good example of Aker BP's contribution to local communities is our activities in Nordland – a county located along the north-western coast of the Scandinavian peninsula in Northern Norway. In 2017, in connection with Aker BP's development of the Skarv area, Aker BP signed a cooperation agreement with Nordland County Municipality. In 2021 we cooperated with 26 local suppliers, and our procurement spend in Nordland amounted to nearly MNOK 160. Aker BP has an active donation strategy in this region. We have established a substantial activity through donations to schools, sport centres, voluntary organisations and communal facilities in Helgeland. Nordland is not the only region where we strive to make a positive community impact.
Supporting causes we believe in
Our Sponsorship and Donation Strategy relies on our Sponsorship Policy and is aligned with our Code of Conduct.
The company is engaged in a few prioritised sponsorship agreements. These are carefully selected to support the local communities where we operate. Below are some examples of our engagements.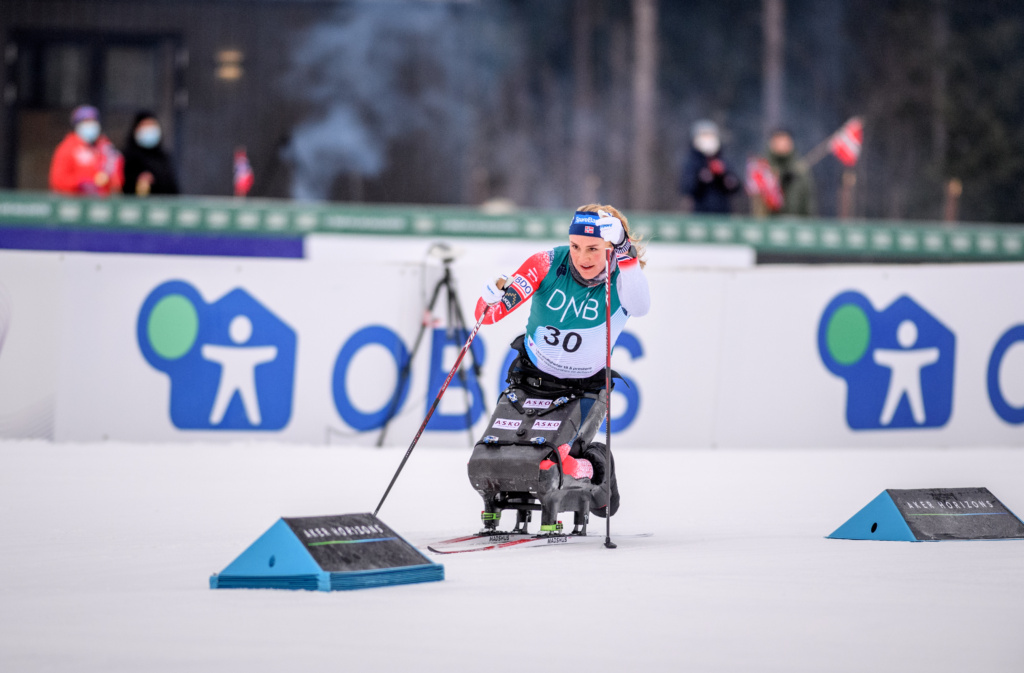 The VI Foundation
Aker BP has been a proud sponsor of the VI Foundation since it was established in 2018. The VI Foundation aspires to give people with disabilities a better quality of life, improved health, and to assist them in becoming integrated in all areas of life through physical activity. The Foundation's goal is to create equal opportunities to function and perform.
In 2021 the sponsorship has established an elite project together with Olympiatoppen, and other partners. Activities include a research and development project emphasising the development of national teams and recruitment of new athletes. They have also set up a scholarship for top performers. The primary target group for the project is children (aged 6-19) in low-income families, girls (6-19) with minority background, and people with a physical disability.
Ridderrennet
For the third consecutive year Aker BP has donated the annual Christmas gift to employees to the "Ridderrennet" foundation. This organisation stages several events, one of which is the world's largest winter sport games for visually impaired and disabled individuals.
The Christmas gift was used to create a digital meeting place where people could register, get in touch with other people in their area, and be active together. The platform was launched in March 2021. The donation also enabled a new event called BikeRidderCamp launched in fall 2021; a place to learn more about cycling in various types of terrain and to network.
Universities
Aker BP has a three-year agreement (2019 – 2021) to support the University of Stavanger, the Norwegian University of Science and Technology in Trondheim and the University of Bergen, focusing on the development of study programmes within Engineering and Geosciences.
In 2021 the sponsorships have covered the costs of field excursions, faculty events and networking events, with the overall aim to motivate students, reduce the distance between academia and industry, and facilitate future careers.
Kunnskapsparken Helgeland
Organises events where students can network with companies and establish an understanding of the different competencies and education required for the oil and gas industry, and related career opportunities.
Kompetanseutvikling Helgeland
A service provider facilitating distribution of donations and equipment to local recipients in the area where Aker BP operates, near its base in the northern part of Norway.
The Munch Museum
Aker BP has been a proud sponsor of the Munch Museum since 2019. On 22 October 2021, the museum opened its new venue in Bjørvika, Oslo. It is dedicated to the life and work of the world famous Norwegian artist Edvard Munch. Its permanent collection includes well over half of the artist's entire production of paintings and at least one copy of all his prints. This amounts to more than 1,200 paintings, 18,000 prints, 6 sculptures, as well as 500 plates, 2,240 books, and various other items. The museum also contains educational and conservation sections and has facilities for the performing arts.
The museum aims to give children and young people insight into the endless possibilities and mindsets of art. Fostering experiences within the arts, free of charge, for children based in districts with low cultural consumption is a key investment to achieve this. The museum introduces learning materials through its educational platform to 750,000 schoolchildren every year.
The Norwegian Petroleum Museum(Norsk Oljemuseum)
A museum in Stavanger with exhibitions that appeal to people of all ages. Aker BP has partnered with the museum for several years. The museum is devoted to interactive and educational exhibits and provides insight into technological development in the oil sector, and how the petroleum resources impact Norwegian society. The museum has developed its own teaching plan in subjects such as geology, energy, petroleum history and socioeconomics. The sponsorship contributes to development and operation of the museum. In 2021, we agreed to extend the partnership for another three years, until 2023
Risk and opportunities posed by climate change
Aker BP acknowledges the conclusions from the Intergovernmental Panel on Climate Change (IPCC) and supports the goals of the Paris Agreement.
A profound transformation of the energy system is underway and needs to accelerate. At the same time, the need for affordable, reliable and clean energy is increasing. While there is no doubt that the world's reliance on fossil fuels will decrease, this change will not happen overnight. Oil and gas will remain a major energy source and feedstock in a low-carbon future for decades to come, accounting for about 50 percent of the total energy supply by 2030 under the Announced Pledges Scenario and for 49 percent under the Net Zero Scenario. For us to reach our national and global emission reduction goals however, today's oil and gas industry needs to change, with further decarbonisation of the upstream sector. The leading oil and gas company of the future will extract oil and gas in the cleanest and most affordable way, while ensuring the highest possible value creation to its shareholders and society. It is dynamic, fast and resilient in the face of the risks and uncertainties posed by the energy transition. These beliefs are at the core of our strategy, and we are convinced that we can and will continue to play an essential role in the energy transition.
The path toward the future energy system is uncertain, and as reflected by the IEA's forecasts and scenarios, there is a wide range of different outcomes for oil and gas demand. It is therefore critical to have a rigorous approach to understanding, assessing and managing climate-related risks. Aker BP's commitment to evaluate and manage climate related risks and opportunities is described in our Climate Policy.
As an upstream exploration and production company, Aker BP is to a large extent a price taker in the commodity markets, and therefore we manage our economic performance primarily by controlling cost and production volumes, but also through financial risk management. A rigorous system is in place for budgeting, forecasting, and managing these parameters, with the aim of supporting sound financial decisions, providing guidance to our licence partners, debt owners, shareholders and petroleum authorities, as well as to continuously monitor our financial risk.
To assess and manage climate-related risks, we use scenario analysis, sensitivity testing and an internal carbon price, in addition to minimising our own emissions. Climate-related considerations are embedded in our decision-making, and we use a set of strict financial criteria, including our internal carbon price, for all investment decisions. At project level, the assessment of climate topics and related risks is an integral part of the project approval process. As defined by our financial framework, we aim to sanction projects with breakeven oil prices of less than 30 USD/bbl (at 10% discount rate). In addition, projects' projected emissions costs are evaluated based on the internal carbon price assumption and we evaluate the project's emissions intensity as one of the hurdle rates. At the portfolio level, the robustness against low oil and gas prices and higher carbon costs, is assessed as part of the business planning process.
Climate-related considerations are also embedded in our exploration strategy. Assessment of the exploration prospects always includes assessment of the CO₂ footprint of a potential development. Infrastructure-led (ILX) prospects are ranked higher when located around modern, electrified hosts. The Norwegian Continental Shelf (NCS) is a maturing basin, where hub lifetime and production decline are important features that are incorporated in our exploration strategy. Therefore, our future exploration activity is concentrated mostly around existing hubs. Our current exploration strategy aims for 80 percent of exploration spend being directed to ILX developments.
In the context of mergers and acquisitions, evaluation of potential acquisition candidates always includes assessment of the company's overall environmental performance, projected emission costs based on Aker BP internal carbon price, as well as an assessment of potential impact on Aker BP's emission intensity performance and related risks.
Summary of the IEA World energy Outlook (WEO-2021) scenarios
The Net Zero Emissions by 2050 Scenario (NZE)
---
This scenario is consistent with limiting the global temperature rise to 1.5 °C without a temperature overshoot (with a 50% probability). The NZE is a normative scenario, meaning it starts with a defined goal to achieve net zero CO₂ emissions by 2050, and shows an example of a pathway that could get the world to that target. In this scenario, demand for oil falls by more than 2 mb/d per year between 2020 and 2050. Demand for natural gas grows to 2025, drops after 2025 and falls well below 2020 levels by 2030.
The Sustainable Development Scenario (SDS)
---
Similar to the NZE, the SDS charts a path that is aligned with the Paris Agreement. However, in this scenario, only the advanced economies reach net zero emissions by 2050, while China achieves net zero by 2060, and all other countries by 2070. Without assuming any net negative emissions, this would allow to limit the global temperature rise to 1.65 °C (with a 50% probability). In this scenario, by 2030 oil demand is slightly below 2020 level, while demand for natural gas is slightly above 2020 level.
Use a modern browser to see a chart here.
Use a modern browser to see a chart here.

The Announced Pledges Scenario (APS)
---
This scenario appears for the first time in the WEO -2021. It assumes that all climate commitments made by govern- ments around the world, including Nationally Determined Contribu- tions and longer term net zero targets as of mid-2021, will be met in full and on time. In the APS, global oil demand peaks soon after 2025 and then falls by around 1 mb/d per year to 2050. Demand for natural gas also reaches its maximum level soon after 2025 and then declines slowly.
The Stated Policies Scenario (STEPS)
---
Rather than assuming that governments will reach all announced goals, this scenario reflects a sector-by-sector assessment of the specific policies that have been put in place, as well as those that have been announced by governments around the world. This scenario provides a more conservative benchmark for the future. In the STEPS, global oil demand exceeds 2019 levels by 2023 before peaking in the mid-2030s and then declining very gradually to 2050. Demand for natural gas continues to rise after 2025 and is around 15% higher in 2030 than in 2020.
Use a modern browser to see a chart here.
Use a modern browser to see a chart here.

Scenario analysis and portfolio robustness
Aker BP recognises the recommendations made by the Financial Stability Board's Task Force on Climate-related Financial Disclosure (TCFD). In line with the best practice recommended by the TCFD, Aker BP employs scenario analysis to assess potential impacts of the climate change and energy transition on our business, financial performance and the long-term strategy. We evaluate selected scenarios to assess possible shifts in the macroeconomic outlook, technology developments, policy and legal implications, and we analyse projected demand for our products (oil, gas and natural gas liquids). Each energy transition scenario yields a range of commodity prices (e.g. power, gas, oil) and environmental fees and taxes. We apply these assumptions in our valuation models to test the resilience of our portfolio.
Our scenario analysis includes scenarios described in the IEA's World Energy Outlook report published in autumn every year. These scenarios are commonly used by our industry peers, and can help the investors and other stakeholders in assessing portfolio resilience across companies. The latest World Energy Outlook published in 2021 describes four scenarios above.
Impact on the NPV of Aker BP portfolio under the IEA's scenarios
Use a modern browser to see a chart here.
Notes:

The NPV of Aker BP's portfolio under the selected scenarios is compared to the NPV of the portfolio valued at Aker BP's latest economic assumptions (NPV10 as of 01.01.2021). Same FX (Foreign Exchange rates) and carbon prices are used for all scenarios. Portfolio consists of producing assets and non-sanctioned projects.
IEA defines prices for 2030 and 2050. We assume a linear price development between those years and flat prices from 2050; actual prices are used for 2021. IEA's oil and gas prices for each scenario are as follows:
Real terms
(USD 2020)
Net zero emissions
by 2050
2030 – 2050
Sustainable
development
2030 – 2050
Announced
pledges
2030 – 2050
Stated
policies
2030 – 2050
Crude oil
(USD/bbl)
36 – 24
56 – 50
67 – 64
77 – 88
Natural gas
– Europe
(USD/mmbtu)
3.9 – 3.6
4.2 – 4.5
6.5 – 6.5
7.7 – 8.3
Sensitivity to oil and gas prices
The figure above illustrates the changes in the net present value (NPV) of Aker BP's portfolio when Aker BP's planning assumptions for oil and gas prices are substituted with those from the selected scenarios, while keeping carbon price and FX unchanged in all scenarios. As shown in the graph, under the IEA's STEPS, the net present value of Aker BP's portfolio is 26 percent higher, reflecting the higher oil and gas price assumptions in this scenario compared with Aker BP's planning assumptions. When tested with the assumptions from the APS, the net present value of the portfolio is 10 percent higher. Under the SDS, the NPV decreases by 7 percent. While this indicates a lower value generation compared to our base case, the analysis shows that, even under one of the most ambitious energy transition scenarios, the impact on our portfolio value is limited to 7 percent.
In the NZE scenario, oil prices plummet, reaching 36 USD/bbl and 24 USD/bbl (in real 2020 terms) in 2030 and 2050 respectively, while European natural gas prices fall from late 2021's extraordinary highs of up to 60 USD/mmbtu (daily average) to 3.9 USD/mmbtu in 2030 and 3.6 USD/mmbtu in 2050 (in real 2020 terms). In this normative scenario there are no new oil and gas fields approved for development beyond already committed projects as of 2021. This collapse in prices is fully dependent on the assumed dramatic reduction in demand, with oil demand falling by 75 percent and natural gas demand falling by 57 percent by 2050 vs 2019 level. Currently, the level of investment in clean energy and efforts to reduce demand are not matching the level needed for this scenario to materialise. As such, this scenario illustrates a pathway the world should strive for, however a major gap remains to be bridged to bring the world closer to this path. While the scenario is normative, we believe it is still important to include it in our resilience testing to make it easier for the investors to compare portfolio resilience across companies. As indicated in the figure above, when tested using the assumptions from the NZE, the net present value of the portfolio is 30 percent lower compared to the planning assumptions. This estimate is based on the prices interpolated from the NZE prices for the selected years, assuming a linear price development during the forecast period. The estimates are uncertain and do not reflect possible price fluctuations, portfolio changes and future cost levels. These scenario analyses demonstrate the robustness of Aker BP's portfolio in the light of climate change and related financial risks, supporting our strategic belief that there is an important role to be played by Aker BP as a low-cost, low-carbon E&P player for decades to come.
Aker BP's internal CO2 price vs CO2 price in the IEA's scenarios
Use a modern browser to see a chart here.
Sources:
IEA WEO 2021; Aker BP's latest economic assumptions.

Notes:
Carbon prices for "Advanced economies" are used in the IEA's scenarios. The IEA's original assumptions in 2020 real terms were inflated by 2%. Carbon prices in the IEA's SDS and APS are equal.
Sensitivity to carbon prices
In Aker BP, we believe that carbon pricing is an important tool needed to help drive a positive change. Setting a price on carbon creates financial incentives for companies to invest in reducing own emissions, drive innovation, and scale technologies. Aker BP's internal carbon price assumptions significantly exceed prices assumed under the IEA's scenarios. In addition to the national Norwegian carbon tax, petroleum operations on the NCS are subject to the European Union Allowances (EUA) for emissions traded under the EU ETS. The combination of the national carbon tax and the EU ETS means that companies operating in Norway pay a much higher price per tonne of CO2 emissions compared with most other countries with petroleum activities.
As part of Norway's climate action plan announced in January 2021, Norway has set a target to gradually increase the total cost per tonne of CO₂ from around USD 80 in 2020 to USD 255 in 2030 (real 2021 terms). The national carbon tax is expected to be regulated in a manner that takes into account the EUA prices, ensuring that by 2030, the total cost of emissions amounts to USD 255/tCO₂. This target is reflected in Aker BP's planning assumptions, which show an increase in both the EUA and national carbon tax over the next 10 years, reaching the targeted level set by the Government for 2030. As shown in the figure above, Aker BP's internal carbon price assumption is significantly higher than the prices assumed in the IEA's scenarios.
NPV10 of CO2 costs as percentage of Aker BP valuation
Use a modern browser to see a chart here.
To illustrate the sensitivity of Aker BP's portfolio to carbon prices, we calculate the NPV of the total future carbon costs under different carbon price assumptions, shown as a percentage share of the NPV of Aker BP's portfolio. As shown in the figure above, the NPV of the future carbon costs as a share of the total portfolio NPV is the highest under Aker BP's base case assumption. This is because Aker BP's internal carbon price assumption is significantly higher than the CO₂ price under the IEA's scenarios. As shown in the graph, the NPV of the future carbon costs under the planning assumptions is limited to 1.53 percent of the total portfolio NPV, which reflects Aker BP's industry-leading performance in emission intensity.
Management of climate related risk
Climate-related risks and opportunities are captured as an individual strategic risk category. These risks are identified, assessed and followed up in the enterprise risk management processes. Risks are defined in a short (0-3 years), medium (3-10 years) and long-term (10-25 years) perspective.
The short-term horizon reflects one where our measures contribute to positioning ourselves to meet the low-carbon economy recognised in the Paris Agreement and obligations for annual reductions in CO₂ emissions. Risks and opportunities are pre-dominantly of operational character.
The medium-term horizon reflects a reduction of CO₂ emissions (gross) by 50 percent within 2030 – a goal of significant importance and embedded in our low-cost, low-carbon strategy. In a medium-term perspective we consider a broader set of elements and mechanisms expected to be affected by or instituted to address the climate challenge, such as: market, regulatory, technical, reputation, physical and operational factors. Energy efficiency, flaring reduction, fuel switching (from diesel to gas), electrification, fugitive emissions (methane) and detailed emission reporting are mid-term strategies to Aker BP. Risks and opportunities are predominantly of tactical nature.
The long-term horizon reflects one with highly energy efficient operations and low carbon footprint in a market still dependent on oil and gas. Supply of electrical power from shore to offshore installations is a long-term objective in our climate strategy. Our long-term horizon reflects close to zero CO₂ emissions by 2050. Risks and opportunities are predominantly of strategic nature.
Aker BP uses an enterprise risk management process where risks and opportunities are identified and managed at all levels (activity, asset, business unit and Company) to enable us to maximise opportunities, minimise threats and optimise achievements of performance objectives. We address and manage risks and opportunities across business units throughout the asset value chain and Aker BP. We use a common infrastructure that enables a holistic risk and barrier management approach on all levels. The Risk and Barrier Policy includes:
Risk and barrier governing principle, bodies and reporting structure
Risk and barrier process framework and infrastructure
Risk reduction and barrier management
The governing structure is set up to manage risks and opportunities effectively and provide information where needed. The risk and opportunity management process is dynamic, and the risks and opportunities are updated and reported when significant changes occur. The EMT and Board of Directors review status monthly. A quarterly review is performed by the Audit and Risk Committee as well as the Safety and Environment Assurance Committee. The EMT review risks and opportunities upfront of the Board of Directors review.
Risks and opportunities are identified both as a result from our internal activity set as well as from various sources such as regulators, industry initiatives, NGOs, public perception, investors, and mapped in appropriate tools. Risk registers are maintained and updated continuously for both activities and business processes. Important risks (including climate related risk) from across business units are communicated to and reviewed at all company levels on a regular basis.
Risk management in Aker BP follows the international standard ISO 31000. Risks and opportunities are analysed, evaluated and mapped to our common company risk matrix, including consequence categories for Personnel, Environment (including climate), Financial, Reputation, Project cost and schedule impact. The risks and opportunities are categorised based on probability and associated consequence.
Climate risk is followed up as one of the integrated companywide risks. Aker BP has implemented a policy for climate and energy efficiency reflecting the core climate risk management principles. Energy efficiency and low emission operations are a core factor shaping our business strategy. Aker BP actively analyse the potential substantive financial impact for climate related risks and opportunities to guide course of action to meet the expectations of stakeholders and the market. Actions require significant change and long-term commitments and investments.
Summary of our climate-related risks
In line with the framework proposed by the TCFD and our Climate Policy, we group our climate-related risks into two major categories: (1) risks related to the transition to a lower-carbon economy and (2) risks related to the physical impacts of climate change. A summary of key climate-related risks is provided in the table on the next page. See also our 2020 CDP response.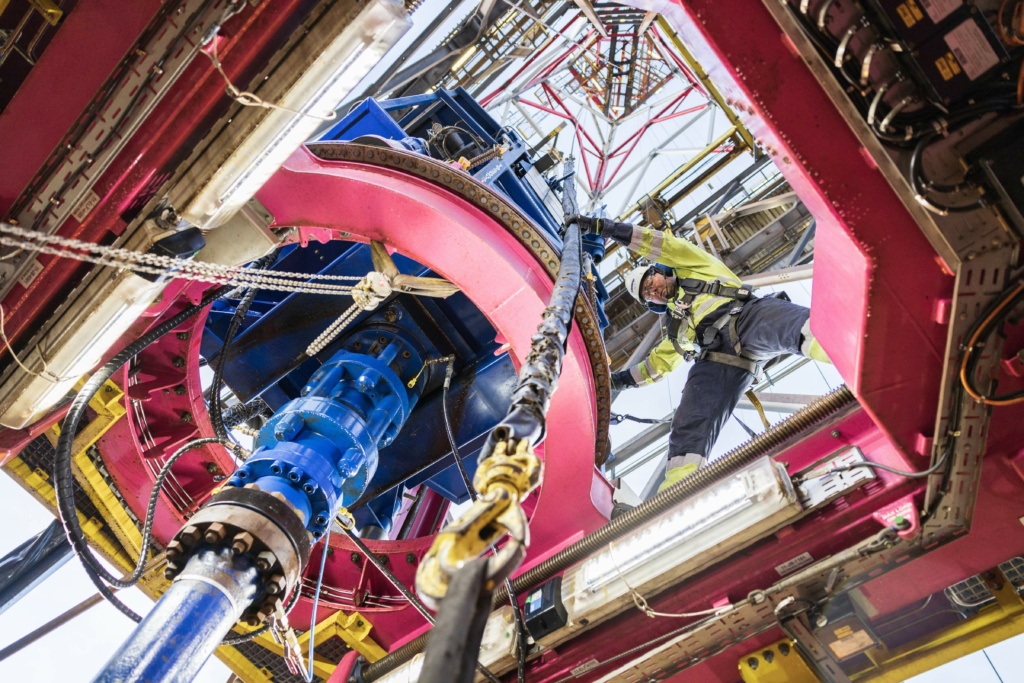 | CLIMATE-RELATED RISK CATEGORY | RISK DRIVER | MITIGATION ACTIONS |
| --- | --- | --- |
| Transitional risks | | |
| 1. Market | Demand for oil and gas can decrease significantly faster than anticipated, resulting in significantly lower oil and gas prices. | Climate risks integrated in all investment decisions. |
| | In anticipation of the faster energy transition, key producers can shift their strategy to market share maximisation, driving down prices. | A strict financial framework for investment decisions; sanctioning projects with breakeven below 30 USD/bbl (at 10% discount rate). |
| | Continued underinvestment in oil and gas production can result in supply declining slower than demand, resulting in a supply gap and significantly higher prices than in our planning assumptions. | Internal carbon price exceeding IEA's Net Zero scenario. |
| | | Scenario analysis and sensitivity testing on both portfolio and project levels. |
| | | Cost reduction initiatives. |
| 2. Regulatory and legal | The EUA price and/or Norwegian CO₂ tax can increase faster and rise higher than what is anticipated. | As above. |
| | Mandatory emission abatements can be enforced that are not competitive with other uses of capital or are uneconomic. | Requirement for all potential projects to be assessed for CO₂ emission intensity and resilience against higher carbon taxes. |
| | Access to new acreage can be reduced, in which case Aker BP's and the Norwegian E&P industry's longer-term growth prospects would be reduced, which would also lead to a potential increase in the cost of capital. | Electrification, using hydro power from shore, or, where feasible, from offshore wind. |
| | | Continuous monitoring of the external environment and engagements with relevant stakeholders. |
| 3. Technological | Technological breakthroughs (e.g. batteries, renewables, hydrogen) and/or regulations can drive faster displacement of oil and gas in energy and non-energy sectors. | As above. |
| | A faster and bigger scale of electrification in Europe can result in higher prices for power, and increase our costs. | Energy efficiency initiatives |
| 4. Reputational | Investors' perception of oil and gas investments can deteriorate, impacting availability and cost of capital. | Efforts in place to secure financial flexibility and maintain investment grade credit rating. |
| | Industry's attractiveness can deteriorate making it difficult to attract and retain the right talent. | Adoption of best practices in climate-related disclosure. |
| | | Maintaining Aker BP brand as an attractive employer. |
CLIMATE RELATED RISK CATEGORY
RISK DRIVER
MITIGATION ACTIONS
Physical risk
5. Accute
Extreme waves/ weather, if becoming more frequent can lead to operational limitations and shut-in of production. Three fields with fixed installations may be exposed to this risk – the Valhall field platforms, Tambar and Ula platforms by means of threatening safe design limits and structural integrity. The most significant factor being what is referred to as "wave-in- deck". This factor is controlled by the air gap between sea level and deck of the installation
Risk to structural design limits is assessed as part of the quantitative risk analysis process covering one offshore asset installation each year and must demonstrate adherence to regulatory design limits.
6. Chronical
Change in precipitation patterns and extreme variability in weather pattern over time may affect working environment by reducing for example "time-in-field", meaning the period an offshore worker may be exposed to a certain working environment condition while performing their scope of work.
Risk assessments are systematically performed by the Aker BP Working Environment team, including recommendations to improve. Working environment risks are assessed using industry standard approach and form input to infrastructure design for new facilities and typically working procedures for existing facilities. Working environment issues are governed by the regulator.
Opportunities
In the investment environment that is increasingly shaped by intensifying ESG pressure, Aker BP's leading carbon efficiency and low production costs provide a strong competitive advantage and better opportunities to obtain capital.
– Cost reduction initiatives.
– Emissions reduction initiatives.