100 Hod contracts awarded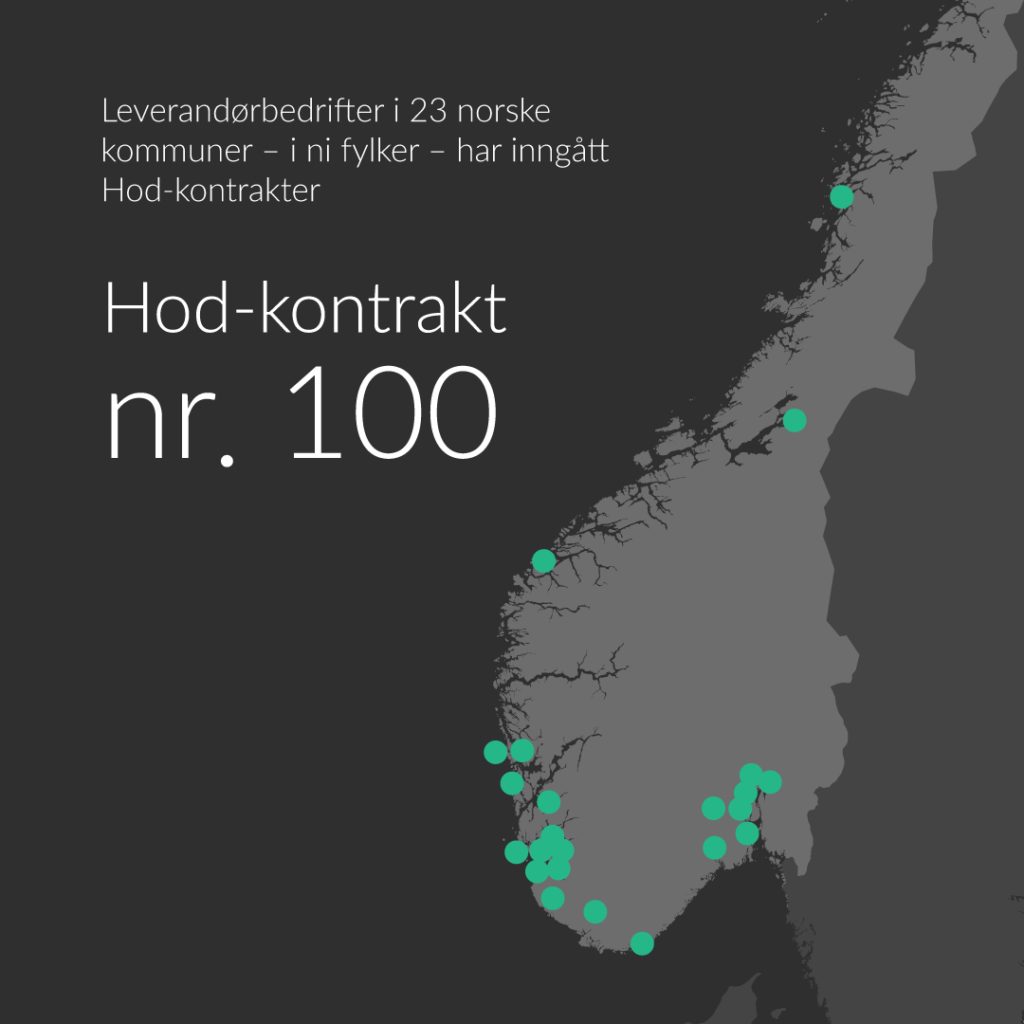 The Hod development, which was kicked off in June as a direct consequence of the Storting's stimulus package for the petroleum sector, is providing activity and jobs for supplier companies all across Norway: To date, Aker BP has awarded one hundred contracts worth over one million kroner for construction of the Hod B platform.
The Hod development is the first in a series of development projects that will be realised during the temporary changes in Norwegian petroleum taxation that were adopted in June. The development plan (PDO) was approved by the Ministry of Petroleum and Energy on 8 December.
Contracts signed in nine counties
Three-quarters (75 per cent) of the contract values for construction of the Hod B platform and subsea installations have gone to Norwegian supplier companies.
The million-kroner contracts have been awarded to companies in a total of 23 municipalities in nine counties around the country – from cornerstone firms along the coast of Southern Norway, Western Norway and northward to Sandnessjøen – and also to a diverse range of companies in Eastern Norway. Many smaller orders come in addition to this.
So far, 100 contracts with a face value of more than one million kroner have been awarded to supplier companies.
"Marking the award of the 100th Hod contract confirms that projects like this create substantial values for the greater society, industry and our owners. The Hod development alone provides thousands of full-time equivalents for a Norwegian supplier industry that leads the world in a great many areas," says Aker BP CEO Karl Johnny Hersvik.
The Hod field is being developed in cooperation with Aker BP's alliance partners. The steel jacket and topsides are currently under construction at Kværner's yard in Verdal, and will be transported to the field as early as summer 2021.
The majority of the 100 awarded contracts over one million kroner are partial deliveries to Aker BP's alliances.
Quality deliveries
Examples of companies that contribute some of the world's best knowledge, technology and equipment to Hod include:
Leirvik AS on Stord (emergency quarters & helideck),
National Oilwell Varco in Kristiansand (platform crane),
Beerenberg in Bergen (surface protection),
Parker Hannifin in Asker (hoses & couplings),
Autek AS in Drammen (instruments),
PG Flow Solutions in Holmestrand (pumps),
Tratec Halvorsen in Kvinesdal (tanks & filters),
Covent AS in Bjerkreim (air treatment facility),
Subsea 7 in Stavanger (seabed equipment/SURF),
Cre8 Systems in Sola (electrical and hydraulic systems),
Westcon Yards in Vindafjord (deck hatches),
Karmøy Trading in Karmøy (platform furnishing and fixtures, etc.),
ABB in Bergen and Oslo (control system),
Mare Safety in Ulsteinvik (MOB boat),
Aker Solutions in Moss (umbilicals) and in Sandnessjøen (prefabrication and steel components for the deck).
"The Hod development consists of many high-quality deliveries from a large number of supplier firms spread across large parts of Norway," says project manager for the Hod development, Rannveig Storebø.
"The diversity of the signed contracts demonstrates how many expert communities are involved in a project like this," she adds.
About Hod
The Hod field is being developed with a normally unmanned installation that will be remotely operated from Valhall. The Hod field will have extremely low CO2 emissions due to power from shore.
The field is operated by Aker BP, which owns 90 per cent. Pandion Energy is the partner with a 10 per cent ownership interest.
Total investments in the Hod project are estimated at around NOK 5.7 billion.
Planned production start is in the first quarter of 2022.