Aker BP – a global leader in low emissions
GHG emission intensity
2,8
CO2e per boe (Q3-23)
Methane emission intensity
of saleable gas (2022)
Our decarbonisation targets
Aker BP has set the following targets for decarbonisation of our operations. The targets are aligned with the Norwegian petroleum industry commitment to a 50 percent reduction in operational greenhouse gas (GHG) emissions by 2030 as compared with the 2005 level. This also puts us in alignment with the Norwegian authorities' overall net-zero ambition.
Our strategy to achieve this
Aker BP's GHG emissions are primarily driven by use of oil and gas for energy generation on offshore production platforms and drilling rigs. The company's strategy for combatting these emissions (scope 1 and 2) consists of three main pillars:
Avoid – by switching to energy sources with lower or zero emissions, and by embedding low-emissions solutions in all new projects while gradually retiring older assets with higher emissions
Reduce – by continuously working to improve energy efficiency across our portfolio of production facilities and drilling rigs
Neutralise – by investing in carbon removal projects to offset our remaining emissions
In addition, we are addressing carbon emissions in our supply chain (scope 3) through active involvement with our suppliers, and we are exploring business opportunities within geological storage of CO2 on the Norwegian continental shelf.
Progressing towards our targets
Aker BP's GHG emission intensity has been significantly reduced over recent years, driven by the start of production from the Johan Sverdrup field (2019) which is powered with electricity from shore, by the electrification of the Edvard Grieg and Ivar Aasen fields (2022), and by continuous improvements in energy efficiency across the asset portfolio.
GHG emission intensity (kg CO2e/boe)
Use a modern browser to see a chart here.
Due to this strong performance, Aker BP has emerged as a global leader within low-carbon oil and gas production. According to data from Rystad Energy, Aker BP in 2022 had the lowest emissions among the world's 300 largest oil and gas producers:
Net emission intensity of 300 largest producing upstream companies, 2022
(kg CO2/boe equity share)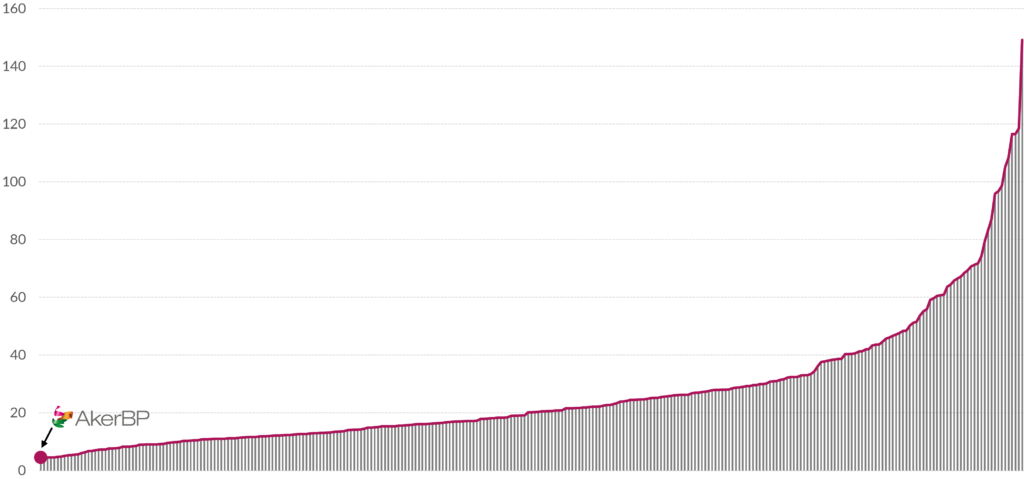 Emissions forecast
The blue line in the figure below illustrates what the emissions would have been without any decarbonisation efforts from Aker BP. However, according to the efforts outlined in our climate strategy and net zero transition plan, we expect this to be 55 percent lower (0.6 million tonnes) in 2030 and close to zero by 2050.
Clear pathway to reduce absolute scope 1 and 2 emissions close to zero
Low methane emissions
Aker BP's upstream operated methane emission intensity in 2022 was 0.02 percent CH4 of saleable gas, which is significantly lower than the industry average of 0.20 percent as reported by the Oil and Gas Climate Initiative (OGCI 2020 performance data). Aker BP's long-term goal is to keep its methane emission intensity below 0.05 percent (lowered from 0.10 percent in 2023).
In 2023, Aker BP has joined the Oil & Gas Methane Partnership 2.0 (OGMP 2.0). OGMP 2.0 is a voluntary United Nations Environment Programme initiative that aims to improve the accuracy and transparency of methane emissions reporting and mitigation for the oil and gas industry.
Methane intensity (gross operated)
Volume % methane of saleable gas
*Source : Oil and Gas Climate Initiative (OGCI) 2020 performance data
Neutralising our residual emissions from 2030
We plan to neutralise the remaining GHG emissions from our operations from 2030. This means that for each tonne of CO2e emitted from our operations (scope 1 and 2) we will sequester the same amount of CO2 through high-quality carbon removal projects. Such neutralisation is voluntary, and comes in addition to mandatory acquisition of European emission quotas and payment of Norwegian CO2 taxes.
This enables us to make a positive contribution by supporting high-quality carbon removal projects. To begin with, we have invested in several nature-based removal projects, applying a strict set of criteria. We are committed to ensuring that our carbon removal projects have no adverse effects on communities and biodiversity, treating this as a pre-condition in our selection process. In the long term, we will explore more direct and technology-based removal methods and offsets that align even more closely with our value chain, geography and footprint.
With the industry's lowest GHG emission intensity, our requirement to offset residual emissions is lower than that of our competitors. According to our current projections, we anticipate the need to offset and neutralise between 3.5 and 4 million tonnes of CO2e from 2030 to 2050 in order to achieve net-zero emissions. We will continue our systematic efforts to further reduce our emissions, which should further decrease this figure.
The figure below outlines our anticipated offsetting needs per year until 2050, and the share already covered by our carbon removal projects.
Neutralisation of residual emissions (1,000 tonnes CO2e)
Use a modern browser to see a chart here.
Evaluating carbon capture and storage opportunities (CCS)
We expect carbon capture and storage (CCS) to play a key role in the transition to a low-carbon energy future, and the Norwegian continental shelf (NCS) holds significant potential for carbon storage. As a leading operator on the NCS, Aker BP is well positioned to take an active role in this area.
Strategic partnerships
Aker BP and OMV (Norge) AS have established a collaboration agreement for CCS, and were in March 2023 awarded a licence in accordance with the CO2 Storage Regulations on the NCS. The licence is situated in the Norwegian North Sea and is operated by Aker BP (50 percent interest). The licence has a work program which includes a 3D seismic acquisition and a drill or drop decision by 2025.
Aker BP has also entered a strategic partnership with Höegh LNG to develop a fully comprehensive CCS offering for industrial CO2 emitters in Northern Europe. The agreement combines the companies' respective strengths, expertise, and technologies to establish a strong value chain for CCS on the NCS that includes gathering, transporting and securely injecting CO2 for permanent storage in subsea reservoirs.
Plans and ambitions
Aker BP's CCS activities currently have three main focus areas. First, we are assessing the suitability of the Poseidon reservoir for carbon storage through seismic acquisition and interpretation, which might be followed by an appraisal well in 2024 or 2025. Second, we are studying development concepts, and third, we are collaborating with partners and authorities to establish a viable business model and regulatory and fiscal framework for CCS.
Our ambition is to establish a profitable CCS business. We believe Aker BP has a competitive edge due to our leading expertise within geology, reservoir management and field development. We also believe that the NCS offers a natural competitive advantage due to the vast scale of its carbon storage opportunities.
Disclaimer
This website includes and is based, inter alia, on forward-looking information and statements that are subject to risks and uncertainties that could cause actual results to differ.
These statements and this website are based on current expectations, estimates and projections about global economic conditions, the economic conditions of the regions and industries that are major markets for Aker BP ASA's lines of business.
These expectations, estimates and projections are generally identifiable by statements containing words such as "expects", "believes", "estimates" or similar expressions.
Important factors that could cause actual results to differ materially from those expectations include, among others, economic and market conditions in the geographic areas and industries that are or will be major markets for Aker BP ASA's businesses, oil prices, market acceptance of new products and services, changes in governmental regulations, interest rates, fluctuations in currency exchange rates and such other factors as may be discussed from time to time on the website.
Although Aker BP ASA believes that its expectations and the website are based upon reasonable assumptions, it can give no assurance that those expectations will be achieved or that the actual results will be as set out on this website.
Aker BP ASA is making no representation or warranty, expressed or implied, as to the accuracy, reliability or completeness of the website, and neither Aker BP ASA nor any of its directors, officers or employees will have any liability to you or any other persons resulting from your use.​