Social impact
Employment practices
We produce energy that the world needs and create value for the Norwegian society and our shareholders. Equally important, our strategy anchors the importance of our building, shaping and developing the Aker BP identity, organisation, and people of tomorrow.
Our identity also reflects attributes such as a progressive stance, always looking for improvement and embracing change. We are committed to contribute to a positive transformation of our industry whilst delivering sustainable operations with dedication to safety, risk management and compliance with the applicable regulatory framework.
The business management system is used to support our management approach, reflecting leadership principles and clarification of the roles and responsibilities of leaders. Our leadership principles and newly updated leadership development concept apply to all managers and describe what we expect from all leaders in terms of building an identity, shaping the organisation, and developing our people. This is also clearly stated in our newly updated People Strategy.
Aker BP practices a flat chain of command and has many arenas and platforms for dialogue and sharing information between management and employees. We work to create an effective, inclusive and collaborative working atmosphere. Most employees have permanent positions; temporary employees or consultants are engaged in situations where we must maintain flexibility. 18,54 percent of the total workforce holds a managerial position.
We focus on team performance and deliverables; we expect our leaders to translate relevant top-down goals and to use the specialists within the team to turn these goals into prioritised team actions, where everyone understands how their contribution is connected to the company's overall goals. The key to our team performance is the shared goals we achieve as a company. To reflect the one-team ambition and drive, we have configured our bonus programme to measure company as collective performance for all levels of our organisation.
Aker BP conducts quarterly employee pulse surveys to help identify organisational input, risks and opportunities, and implement relevant measures to improve the work environment.
Aker BP adheres to collective bargaining agreements and have defined a number of topics that requires in-depth involvement from our employees. Discussions regarding changes have mostly taken place through our Works Council and Working Environment Committee, which have served as well-established and recognised arenas for employee representation and participation. Aker BP seeks to involve our employee representatives as early as possible before any significant changes to the organisation or operations are addressed and adopted.
Aker BP employees onshore have flexible working hours and a flexible hybrid-working policy that allows for remote working, provided there are adequate working conditions remotely and tasks that do not require office presence.
Full-time and part-time employees alike can enjoy a wide variety of employee benefits including:
Life insurance covering employees, their partners, and children
Loss of licence insurance: Offshore workers must meet certain medical and fitness requirements; should they fail to pass the test and no longer be able to work offshore, an insurance pay-out will be implemented
Extensive health insurance
Disability and invalidity coverage
Defined contribution pension scheme in addition to the Norwegian national insurance scheme
On-site health clinics, gym, and ergonomic counselling
Discount on purchase of company shares
Aker BP employees are enrolled in the company's defined contribution pension plan. In combination with the National Insurance Scheme, each employee's pension contribution amounts to 25.1 percent of pensionable pay, capped at approximately NOK 1.2 million (this cap is regulated by Norwegian pension legislation). The plan is fully funded. No employees have a top-hat pension plan (pension on pensionable pay above NOK 1.2 million).
Parental leave and career breaks
Aker BP employees are entitled to parental leave in accordance with Norwegian legislation; parents are entitled to a total of 49 weeks with full pay, or 59 weeks with 80 percent pay. Approximately one third is reserved for the mother, one third reserved for the father and the remaining weeks can be used at the parents' discretion. We offer full pay during parental leave and an option for a further career break for up to 12 months (unpaid). During this period, employees are still covered by Aker BP's insurance plans. 157 employees (49 women and 108 men) took parental leave in 2021. The retention rate of employees that took parental leave is 100 percent. All Norwegian municipalities offer public childcare, enabling parents to return to work once their parental leave is over.
Training and education
Career development is at the core of our employee value proposition and is essential for us to succeed with our strategy. Aker BP provides opportunities for building the best CV in the industry by combining career moves and development efforts. We offer extensive training and education, and this will continue to be an area where we focus and refine content.
Each employee is responsible for their own development, and we expect leaders to focus and contribute to the employee's development. The annual career development review forms a good basis for further development of the employee in Aker BP. 87,8 percent employees completed the development review in 2021.
Internal training
Completed courses by competence area
---
13,558 Total completed courses
Use a modern browser to see a chart here.
Completed courses by delivery method
---
Use a modern browser to see a chart here.
Average completed courses by gender
---
Use a modern browser to see a chart here.
Average training hours per person:
21.5
Average completed courses senior management:
7.5
---
Average completed courses management & senior professionals:
6.5
Average completed courses professional:

6.1
---
Average training hours per person:
21.5
Average completed courses senior management:
7.5
---
Average completed courses tariff:
9.3
We have defined five competence areas as essential for our development going forward:
Domain/Discipline
Leadership
Digital
Change
Aker BP values
Despite the ongoing pandemic, 2021 has been a very active year and we have enabled employees to operate a more dynamic and digitally equipped everyday life to maintain long-term productivity and development. Our most important platform for conducting work as usual has been facilitated through our in-house Academy university, offering competence development through courses, networking and workshops.
We delivered a total of 19 different types of training in 2021. This corresponds to 21,5 hours of training per employee. The figure above provides a closer look at what we have delivered in the area of training and competence.
To ensure that we close our plan-do-check-act loop we have established a training dashboard that is available to everyone with good analysis and key figures that we believe will drive learning. We will constantly develop, improve measurement-based training: evaluate and improve based on analytics to evaluate different competence gaps and development of our employees.
Building leaders and knowledge experts
We invest in developing our leaders and knowledge experts as it empowers us as a company. Employees can further develop their expertise and skills to become better equipped for leading professional disciplines or employees through our development programmes for both horizontal and vertical management:
Mentorship programme in leadership: An established yearly programme developed and executed in partnership with AFF that pairs mentee and mentors in the organisation to co-develop through the programme for one year. The programme provides employees with support, toolkits, guidance and development opportunities.
Knowledge experts' programme: Through 2021, Aker BP has renewed and re-established our programme for knowledge expert in the company, focusing on driving professional and discipline expertise. Through participation in the programme, employees gain skills to drive innovation, manage change and build trust through development and collaboration.
Unconscious bias: As part of our Diversity & Inclusion plan, during the second half of 2021 we have prioritised a training campaign to build a common culture mindset to address unconscious bias. The training campaign has been mandatory and targeted to specific levels and units, both onshore and offshore. The organisation now has a common toolkit and language to better collaborate, drive decisions and optimise synergies of different views. The course was set as mandatory and approximately 80 percent of our employees completed the programme that was tailormade for different target groups.
Unconscious bias training
1,378 completed unconscious bias training
Use a modern browser to see a chart here.
Diversity and equal opportunities – ONE TEAM
Aker BP values the unique contributions of our employees and believes that a diverse and inclusive workforce emphasises deliveries and accomplishments.
All decisions, from recruiting to promotions, should be merit-based, not based on characteristics such as gender, national origin, religion, ethnic background, age, sexual orientation, gender identity, marital status, disability, or age. We do not tolerate any form of discrimination, whether it be trade union affiliation, social background, political opinion, sensitive medical conditions and so forth.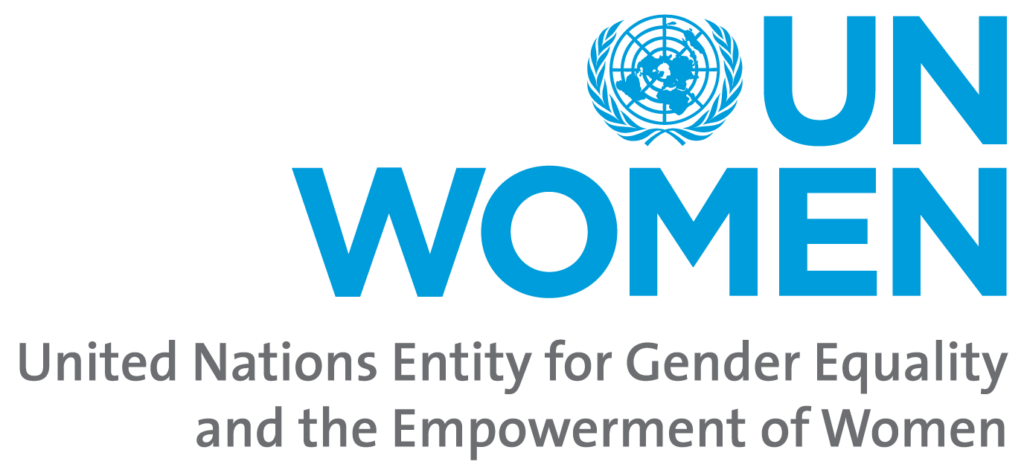 Aker BP adheres to a gender-neutral pay system, which means that men and women in identical positions, with equivalent experience and the same formal competence, who produce equivalent results, are paid the same. This is evaluated and bench-marked for new hires, promotions and annual salary reviews. A total of 573 Aker BP employees are offshore tariff workers who are paid based on a salary matrix where the only two factors impacting salary are the type of job (electrician, nurse, etc.) and number of years of experience. The gender pay ratio for tariff workers is 100 percent when adjusted for equal positions and seniority.
Onshore employees and offshore supervisors are individually evaluated based on job complexity and accountability, as well as formal competence and experience level. For pay analysis purposes, employees are further grouped into three categories: subsurface and drilling, technical and business support.
Bloomberg's Gender Equality Index has rated Aker BP very high in the categories of Female Leadership and Talent Pipeline, which measure recruitment, retention, and development of women into senior leadership positions. Aker BP was also recognised for doing well with regards to Equal Pay and Gender Pay Parity, addressing closing of the gender pay-gap through transparent and effective action plans. Based on in-depth analysis on diversity & inclusion metrics we have an improvement and action plan, which particularly targets improving our gender distribution. We will continue our work to achieve this in various areas and have included a set of questions related to work/life balance, perceived opportunities in the company, and compliance with the company processes in our quarterly pulse survey.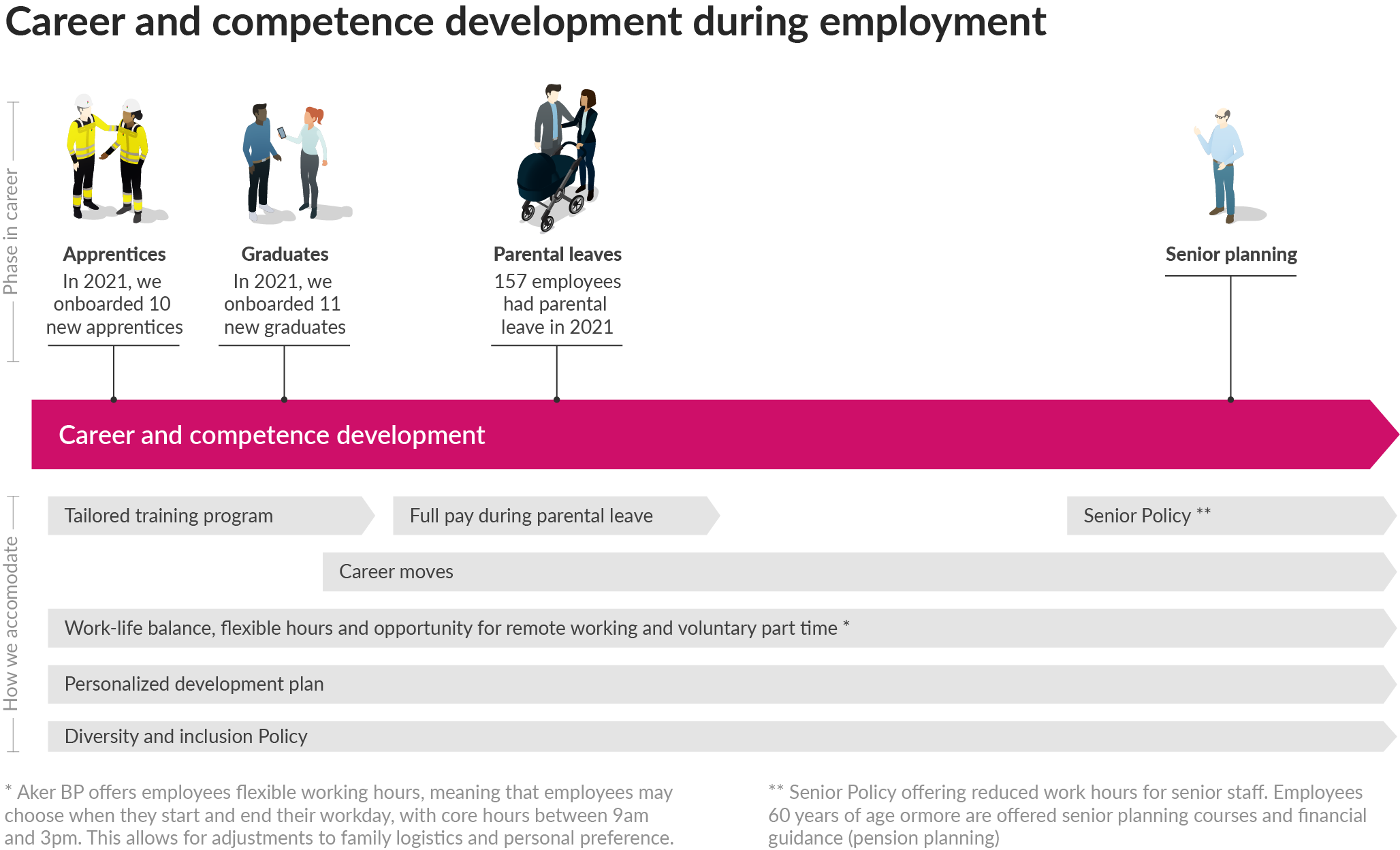 The quarterly pulse survey contains a set of questions defined to check the temperature of the organisation used to identify improvements and actions to improve working environment.
We adhere to the Equality and Anti-Discrimination Act stating that all Norwegian employers are obliged to work actively, in a targeted and systematic manner to promote equality and prevent discrimination in the workplace. Following analysis in line with the four-step model required by this act, we have established a Diversity and Inclusion Policy expressing the mandatory principles all Aker BP employees will follow, with clear targets and a plan for action.
These principles aim to go beyond statutory equal opportunity policies and embrace diversity and inclusion as part of the company's strategy to source, retain and manage unique talent, skills, knowledge, and experience. They will govern everyday working life and cover such matters as: recruitment and selection, access to leadership opportunities, access to learning and development opportunities, succession planning and talent management. Our main goal is to broaden the options of candidates in the decision pool and remove any unconscious bias in processes where we select, promote and represent our workforce.
Diversity and inclusion have been on the agenda throughout 2021, both at executive level and in the Works Council. Together with the executive level, VP People & Organisation oversees the execution of the agreed action plan, which in 2021 consisted of these elements, among others:
Further implementation and activities to increase knowledge of and adherence to our Diversity & Inclusion Policy.
Updating relevant People&Organisation processes on selection of new hires and career development such as succession and development programmes to include requirements for shortlists to secure diverse and inclusive teams.
Adherence to the gender-neutral pay system, which means that men and women in identical positions, with equivalent experience and the same formal competence, who produce equivalent results, receive similar pay. This is evaluated and bench-marked for new hires, promotions and annual salary reviews.
Continuous improvement and adjustment based on fully transparent analytics that include diversity metrics in our workforce, sorted by departments, age groups, position grades, nationalities, gender and are more available and updated at all times.
Participation in a 50/50 leadership programme for females, with a dual ambition of leadership development of talents and contributing to the company's diversity and inclusion programme by gaining insight and learning from other companies.
Unconscious bias training offered to all employees, mandatory for leaders (further described in the Training and education section of this report).
New standard on company representation and design of career opportunities, aspiring to create a more diverse workforce.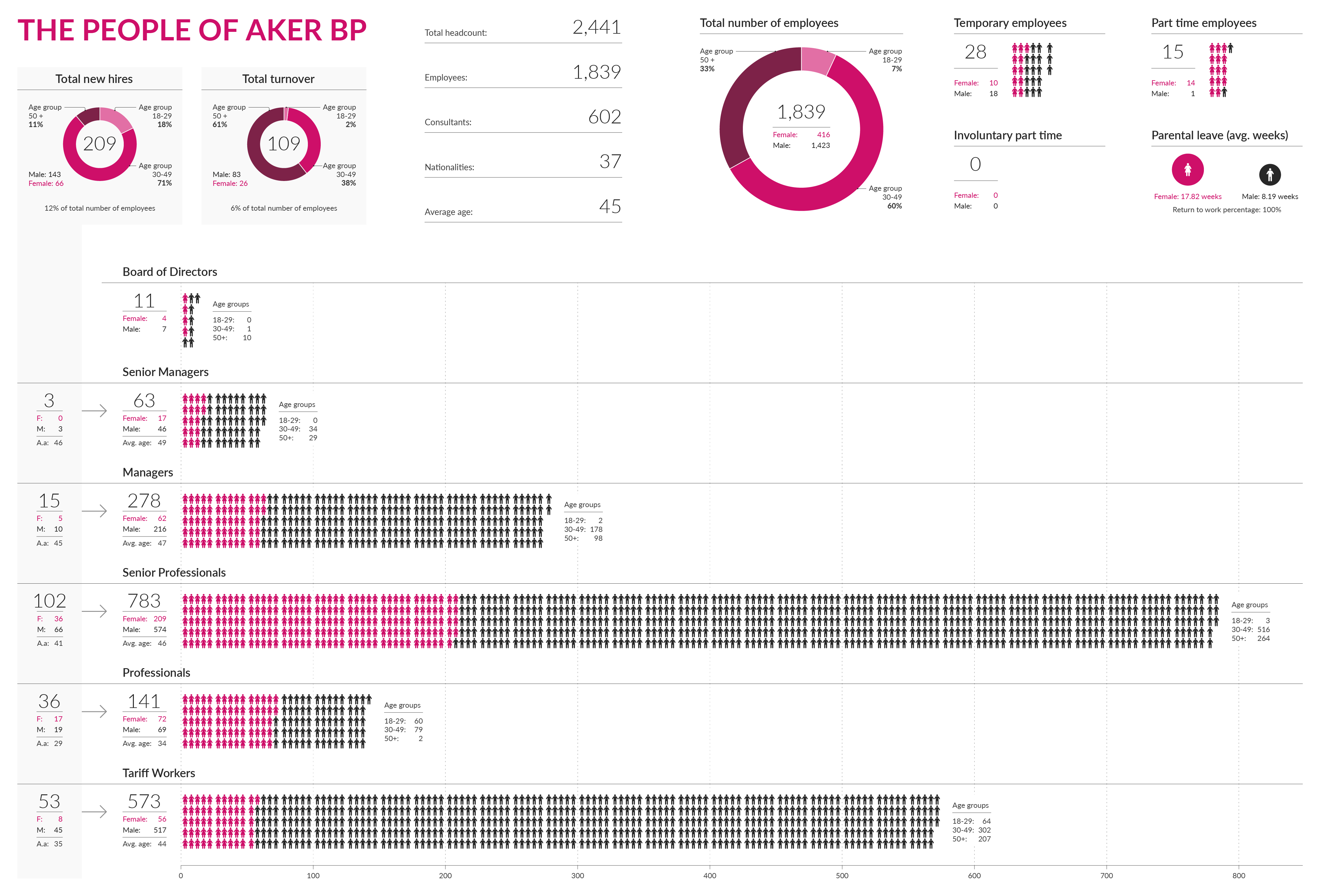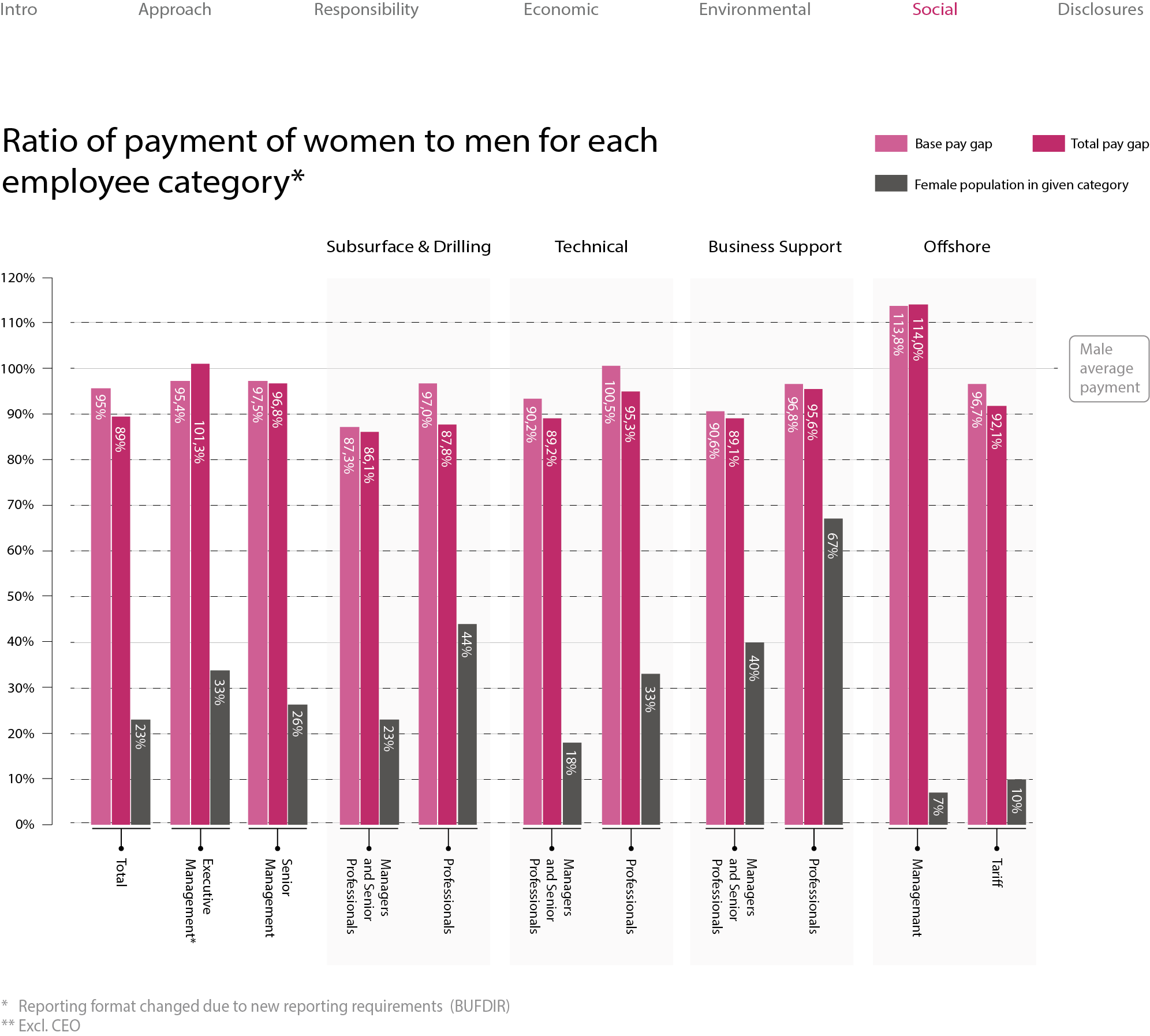 Occupational health and safety
A license to operate on the Norwegian Continental Shelf implies compliance with strict occupational health and safety requirements from the Norwegian Government and specifically the regulations governed by the Petroleum Safety Authority.
The government and the public both have high expectations for Aker BP's health and safety performance and the goal is always to prevent any kind of harm to our employees, temporary personnel and contractors.
Several structured measures are in place to manage occupational health and safety in order to fulfil this goal. A comprehensive occupational health and safety management system has been implemented to ensure that Aker BP identifies, understands, mitigates and manages health and safety risks throughout its offshore and onshore activities. The management system is based on regulatory requirements, international, national and industry-specific standards and was subject to more than 20 formal audits by governmental bodies in 2021. It includes processes for monitoring occupational health and exposure to ensure that the health of workers is safeguarded, as well as the potential need for additional measures. Our health and safety management system applies to all employees and all workers (such as temporary personnel) that perform work for Aker BP. This is anchored in the Health and Working Environment Policy and further described in two dedicated process areas. These areas are governed by the Working Environment Discipline Lead, Occupational hygienists, the Health Discipline Lead and an ergonomist. The requirements and processes are subject to an annual update, in addition to ad-hoc updates based on lessons learned from e.g. incident investigations, research and audits. The requirements and processes are followed up through regular surveys, assurance activities, audits and risk assessments. Observations or incidents related to the working environment are registered using the company's established incident management process and reports are handled in accordance with the requirements described therein. Sensitive matters may be addressed through the safety representative, People & Organisation department or the integrity channel.
In practice, the business management system ensures that Aker BP strives to understand the risks associated with its activities through systematic use of risk assessments, thoroughly described in a dedicated process area for Risk and barrier management. The understanding of risk forms the basis for systematic efforts for hazard identification, mitigation and incident reporting, as well as work environment surveys and occupational hygiene measurements.
Aker BP works systematically with mapping and analyses of the working environment factors that can lead to work-related hazard and illness. Working environment health risk assessments (WEHRAs) are Aker BP's main tool to map its working environment risks. The method is based on our process to assess and treat risk, which ensures appropriate risk identification, analysis and evaluation. The objective is to evaluate whether the working conditions comply with regulations and requirements. It forms the foundation for planning and execution of risk reducing and preventive measures for both chemical and physical working environment, ergonomics, psychosocial and organisational working environment. The WEHRA method is used for mapping and risk evaluation in projects for new-builds, modifications and in operation.
Furthermore, the results are used to identify the need for more detailed mapping and evaluation, and to form the basis for health monitoring. The quality and integrity of these assessments are ensured by the occupational hygienists and ergonomic specialist facilitating the activity, as well as by the inclusion of relevant employees and safety representatives. The results are shared with the employer, employees, the Working Environment Committee and the Occupational Health Services.
WEHRA is also used to identify and follow up workers vulnerable to the risk of work-related injury or illness. The annual HSSEQ plans describe the need for working environment activities based on portfolio activities and projects. Findings related to assurance activities or incidents may also trigger an updated or new WEHRA. This includes, but is not limited to, changes to the working environment, task complexity, work-related illness, requests from the Working Environment Committee and regulatory changes.
Should work-related hazardous situations occur, we have incorporated practices for workers to secure the workplace and leave the area. Everyone working for Aker BP shall plan for safe work and stop unsafe work. All incidents are reported and followed up in the incident reporting system Synergi. Aker BP operates a process for managing unwanted events. This process includes registration and classification of events, investigation and experience sharing. Depending on the severity of the event, both actual and potential consequences, the level of investigation is decided in a meeting where relevant roles, managers and HSSEQ professionals participate.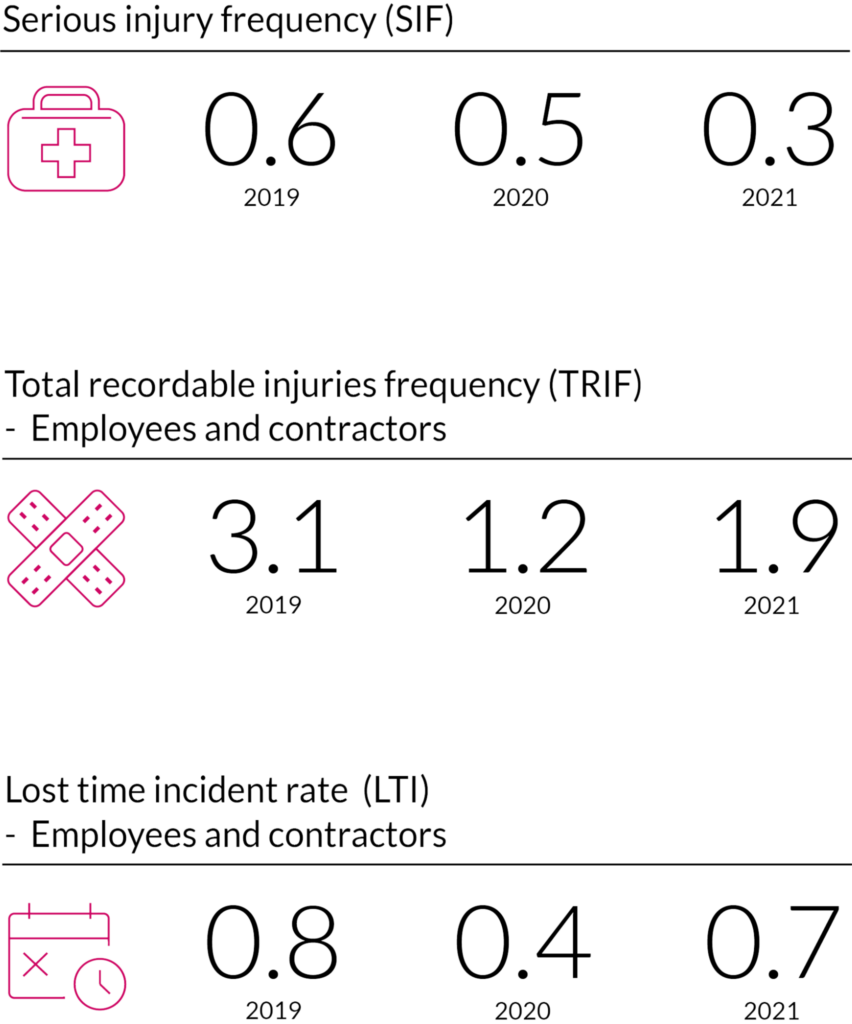 The outcome can range from not launching a formal investigation for less severe cases, to an extensive investigation where the investigation team is appointed by Internal Audit for severe and complex events.
An investigation aims to identify what caused the unwanted event and to prevent similar events from reoccurring by establishing corrective actions. Aker BPs investigation team leads are trained in using the principles of "Hierarchy of Controls" and in addition to assess and score corrective actions in terms of risk reduction and reach, e.g., whether the action will be for one or more offshore installation. Every investigation is concluded in a Management Review meeting to ensure agreement on actions and proper resourcing and deadlines for implementation. The outcome will in most cases address technical, procedural and organisational aspects, and when required, content in the management system is revised and updated. Actions are tracked to completion in Synergi, our reporting system. Experiences from the event is shared within the company and with other companies using the Lessons Learned collaboration system.
Aker BP aims to be a health promoting workplace for all personnel performing work for the company. To ensure personnel are healthy, sustain or even increase their health while working for the company, Aker BP has implemented several structured measures. Further, Aker BP is committed to and acknowledges that health is more than low sick leave percentages and that health is more than the absence of sickness for the individual. Health can be defined as the presence of full mental, physical and social well-being and this is what we aim to achieve for personnel working for us.
Aker BP provides a set of both occupational and non-occupational health services to prevent, discover and monitor work-related health risks. Employees also receive non-occupational health services related to personal health, physical therapy and health-promotive services such as support for increased physical activity, quit-smoking aid, dietary advice, vaccination programmes, health surveillance programmes and stress management. Further, our affiliated Occupational Health Care Services (OHCS) plays an important part in assisting Aker BP being a health promoting workplaces for all our personnel. There are bi-weekly meetings between Aker BP Discipline Lead Health and the Occupational Health Care Service which enables us to have a continuous overview of the various work the OHCS performs for our personnel. The OHCS is also represented in Aker BP's Working Environment Committees and the representative has an objective advisor role with regards to health and working environment. The OHCS is based onshore but performs work both for the onshore and offshore workforce. Aker BP also has an internal health department consisting of offshore nurses and discipline health lead onshore.
Aker BP did not experience any work-related fatalities in 2021 (including employees, contractors and hired personnel). We have 13 registered instances of work-related illness: All 13 are Aker BP employees. All work-related illnesses are closely followed up by the internal health department and the OHCS. The process for the identification and follow-up of work-related illness is described in the business management system.
All health care consultations, personal or related to occupational health, are registered in a health records system by dedicated health care personnel with a duty of confidentiality. Personnel who desire insight into details registered about themselves can contact the internal health department in Aker BP or the Occupational Health Service, depending on which entity performed the consultation. Information about occupational and non-occupational health services is communicated to personnel through various Aker BP communication platforms, both digitally and in-person.
Aker BP has in 2021 devoted special attention (as in 2020) to monitor how the pandemic has affected the workforce. To monitor the effects of the pandemic on our workforce, and to assess which measures should be implemented in the organisation, a psychosocial survey was established in 2020 and this survey has targeted the onshore and offshore organisation several times a year for approximately the last two years. The company established a mental health support line staffed by health care personnel to aid personnel working for the company with challenges such as loneliness, isolation, concerns about own, family or colleague's health etc. The support line has been used on several occasions during 2020 and 2021.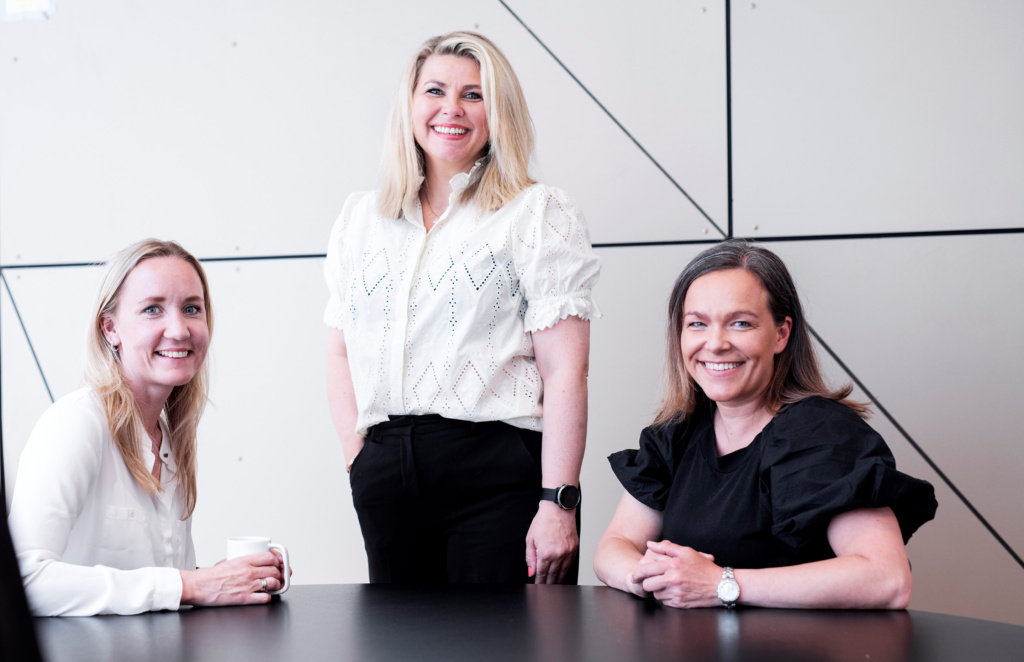 Aker BP acknowledges that ensuring health and safety is a continuous effort and maintains a comprehensive health and safety training programme. All Aker BP employees participate in mandatory e-learning training courses for chemicals, noise, ergonomics and psychosocial working environment. All participants in working environment committees, managers and safety representatives must undergo formal extended training in working environment topics.
Mandatory pre-departure courses to ensure that all personnel travelling offshore have the necessary knowledge of HSSEQ requirements and guidelines, and extensive requirements for professional competence in the individual disciplines make it safe to travel to Aker BP locations. Asset specific training is provided by our working environment specialists in occupational hygiene and ergonomics based on needs identified in risk assessments and surveys.
Another key effort to strengthen HSSEQ awareness is the implementation of a set of Life-Saving Rules from the International Association of Oil & Gas Producers. The Life-Saving Rules represent industry-wide best practice in preventive HSSEQ efforts. Aker BP continued to strengthen its collaboration with other operating companies on the Norwegian Continental Shelf in 2021 in order to ensure that the collective industry experience is utilised to maintain worker health and safety. The collaborative efforts include coordinating the annual cycle for preventive HSSEQ initiatives as well as common training material.
The 2021 Q4 Health and Working Environment learning package was established to strengthen the employees' competence in managing the working environment and factors that constitute a health risk and can lead to work-related illnesses. The focus was to promote awareness of risk factors in the working environment, improving the understanding of health and working environment risk management, increasing the use of risk assessment of health and working environment factors. The aim was to give answer to the questions about how we can become better at managing health and working environment risk, how we can reduce the risk of monotonous work, and how to reduce the risk of heavy work.
As an operator, Aker BP has a duty to ensure that everyone working for Aker BP complies with regulatory requirements. The goal is to reduce the probability and consequences of incidents as much as possible. Information is obtained annually to safeguard Aker BP's disclosure requirements in accordance with current regulatory requirements. This response data is used to assess Aker BP contractors' risk in relation to following up health risk vis-à-vis the Norwegian Labour Inspection Authority, the Petroleum Safety Authority, Norwegian Radiation and Nuclear Safety Authority and NORSOK S-WA-006:2018 E. A risk-based assessment forms the basis for further follow-up of contractors in the form of for instance observation and inpsection activities. According to national legislation, it is mandatory for companies of a certain size to formalise worker involvement and participation. Aker BP's structure of Working Environment Committees (WEC) includes committees on both the corporate and asset level. The purpose of the committees is to formalise worker involvement and provide employees with a clear voice in safety matters. The WEC is a decision-making and advisory body within the working environment in Aker BP that meets quarterly or more often if necessary. In accordance with the Working Environment Act, WEC participates in a number of statutory tasks including: planning safety and environmental work, surveys, decision of action plans, development of management systems and closely follows up developments in issues relating to employee safety, health and welfare. All reports related to working environment inspections and measurements shall be presented to the WEC.
Aker BP employees also have elected safety representatives both onshore and offshore. The role of the safety representative is to safeguard worker interests in matters concerning the working environment. The safety representatives are represented in the WECs.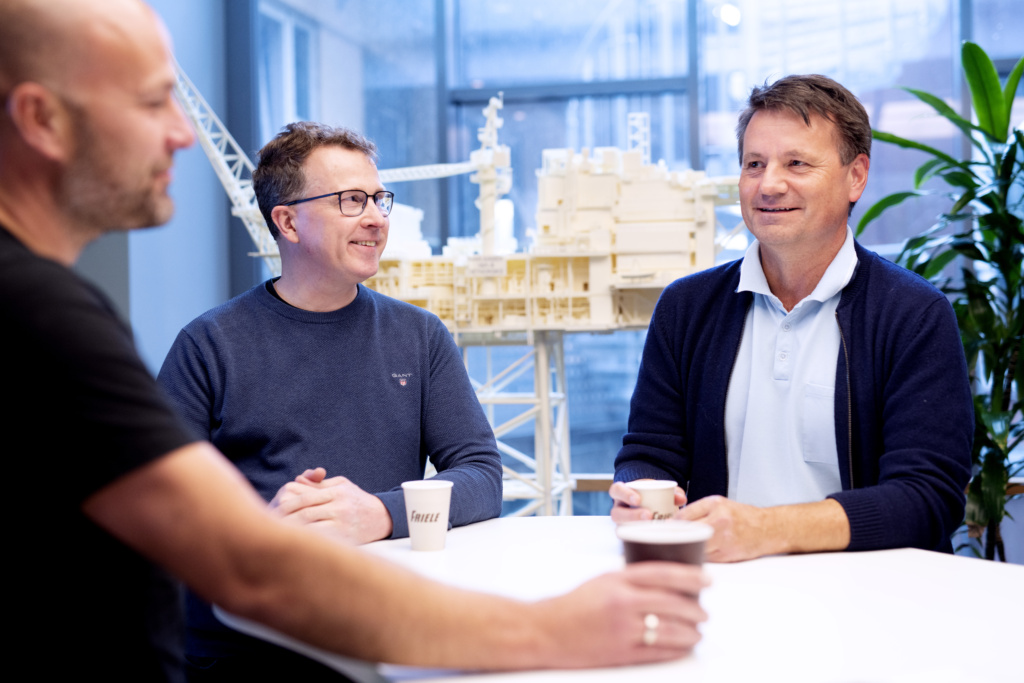 The company's overall HSSEQ performance exhibits a positive trend. However, to meet our ambition of no harm to people and the environment, we need to maintain our continuous effort to seek improvements in our HSSEQ performance.
In addition to continuously improving our own HSSEQ results, Aker BP has a responsibility according to national legislation to follow up on and exercise influence to prevent and reduce negative consequences for health and safety in the workplace that are directly related to the business, products or services acquired from our business relationships as contractors or subcontractors. Aker BP facilitates compliance with the regulations through the framework conditions in cooperation with contractors and subcontractors.
In 2021 Aker BP had two serious injuries that affected our employees. The incident with two injuries has been thoroughly investigated to capture learnings and to prevent re-occurrence. The number of contractors that got seriously injured has been reduced every year since 2019. However, we aim to work even harder for the coming year to strive for zero incidents in both categories. Aker BP had zero Process Safety Events (PSE) in 2021 and this is a trend we aim to sustain.
The Serious Injury Frequency (SIF) for 2021 is 0.3, which is an improvement from our rate of 0.5 in 2020. The Total recordable Injuries Frequency (TRIF) has, however, increased from 1.2 in 2020 to 1.9 in 2021. Considering TRIF data from the past five years, the results from 2021 is the second best achievement for the company, indicating that the systematic approach to address and handle personal injuries is effective. Most of these are minor injuries such as staff or contractors stumbling on their way to/from the workplace, or a pinched finger etc. and are often related to not being present in the moment. This is an area we will focus on improving in the coming year, for example through our quarterly HSE learning campaigns where one quarter is devoted to personal injuries.
The quarterly learning campaigns that Aker BP develops in collaboration with three other major operators in Norway has the purpose of strengthen the industry's safety culture and to work together in order to have zero major accidents, avoid injuries, dropped objects, and strengthen the health and working environment. The learning campaigns are designed to be used as a team exercise and are performed online by both offshore and onshore teams. The teams watch learning videos, performs practical and relevant tasks as well as anonymously answer and reflect on questions related to the quarters learning campaign. The campaigns are designed to suite each personnel type and the answers produced by the various teams are used for learning campaigns in the future and to improve the way we work with HSE in the company.
Each quarter the teams focus on different aspects of the quarterly topics. The focus for each quarterly campaign is based on collected data from the previous quarter with the same topic. This way one ensures that the topics that are experienced as difficult or that have room for improvement are addressed and receive additional focus the next quarter. This initiative is repeated annually and is a strong contribution to our proactive HSSEQ effort. Aker BP has an internal audit department that reports to the CEO. Additional resources are hired when needed. The "Three lines of assurance" model is established as Aker BP's assurance framework. The role of the Internal Audit & Investigation (IAI) function is as an independent third line, to proactively provide effective assurance and oversight of the integrity of the internal control framework for all operations. IAI considers whether the business management system is operating effectively to respond to significant risks that could affect Aker BP's values, objectives and strategic priorities. Internal audit reports are provided to the Executive Management Team, CEO and Board of Directors through committees such as the Audit and Risk Committee. The Petroleum Safety Authority Norway (PSA) carried out 19 audits of Aker BP's operations and activities in 2021. Other authorities, such as the Norwegian Environment Agency, Norwegian Petroleum Directorate and Directorate for Radiation Protection and Nuclear Safety conducted one audit each. Aker BP received two notices of order from the Petroleum Safety Authority in 2021. One notice was related to establishment and verification of a well barrier element on Hod B and the other was related to non-compliant visibility of flare boom during dark conditions on Valhall PH. Both orders resulted in improvement work into 2022.
Risk & barrier management
The responses and measures we use to control, manage and optimise our risks are embedded in our governance and business management system, and are complemented by our risk and barrier management framework.
We continually improve and strengthen the business management system to control and optimise inherent risk, based on learning from our experiences and best industry practises.
Risk management is fully integrated in all our activities and permeates and supports our decision-making at all levels. Communication of important risks arising across the value chain and assets is ensured by our enterprise risk process, which encompasses all business units, and is reviewed on a regular basis by the Executive Management Team, Audit and Risk Committee and the Board of Directors.
Barrier management is systematically incorporated in all critical operations by establishing, monitoring and maintaining barriers in order to prevent major accident events and/ or significantly reduce potential consequences. During 2021, substantial improvements of the barrier management framework has been completed and implemented across assets in operations.
Amid an unprecedented focus on enhancing business performance through digital means we still rely on the collective experience and insight of our workforce to identify and act to manage risk throughout all phases of our activities. We systematically support the improvement of our ways of working by using our three lines of assurance (3 LoA) model for independence in the assurance of Aker BP's business management system. A targeted training programme towards process owners focusing on the 3 LoA model has been rolled out in 2021. Performance across the model is communicated to and evaluated by the Audit and Risk Committee and the EMT.
We support performance improvement through pro-active context specific training and coaching on how to apply the risk and barrier management framework. The current focus areas in the training are to safeguard major HSSEQ risk in our operations, and financial risk associated with major investment decisions. In 2021, we completed a comprehensive competence enhancement programme on risk management aimed at Asset Operations and Project personnel. We plan similar training for the Drilling and Wells organisation in the first half of 2022. Barrier management training of key-personnel in the asset operations teams has been completed in 2021, in addition to roll out of a barrier management e-learning module.
The overall objective of risk management in Aker BP is not only for our workforce to understand the standardised processes, apply the methods and use the systems, but also for them to take on a behaviour and mindset where risk is always considered and discussed upfront. Identifying opportunities and performance optimisation is a natural part of what we do to support our goals and sustainable business growth. We structurally apply the company's strategy process to set the overall direction, goals, and targets. Aker BP's key risk factors are detailed in the Board of Director's report included in the 2021 Annual Report.
Asset integrity and critical incident management
Identification, evaluation, and mitigation of major accident risk is a main focus throughout the lifetime of assets in Aker BP.
Design of installations is based on regulations, standards, Aker BP additional requirements and recognised engineering practices.
Inherently safe design principles are the basis for design. Risks are managed through a set of engineered barriers that are in place both to reduce the probability of incidents with major accident risk potential, and to reduce the consequences if such an incident does occur.
Human intervention required to ensure effective incident control is implemented through general training of offshore personnel and specialised training of the emergency response teams. The residual risk is quantified and verified to be within Aker BP's risk acceptance criterions.
During operation, a continuous focus on barrier performance is implemented through testing and maintenance of active barrier functions and risk-based inspections of passive barrier functions. Failed tests or inspection findings will be registered, evaluated, prioritised, and corrective actions will be taken to maintain safe operations. Important functions, processes, and systems to ensure asset integrity is also regularly validated through self-verification, assurance and audit activities.
Emergency preparedness
Aker BP faces a range of incidents within our operations that can potentially harm people, the environment, our assets, or the economy. We are committed to avoid harm and injury to personnel and all assets, avoid work-related illness and ensure safe and compliant operations. Aker BP's emergency response organisation is dimensioned to handle emergencies and hazardous incidents effectively, contribute to prevent dangerous situations from developing into accidents and reduce the consequences once something has gone wrong.
Aker BP has organised the emergency preparedness organisation as illustrated in the figure below.
In the event of an emergency incident that is expected to have a long duration, an Incident Command Organisation will be mobilised and take over responsibility for handling the incident and the normalisation phase. This organisation is established when needed and works according to guidelines established in the plan for the Incident Command organisation.
We systematically conduct training and exercises for all parts of our emergency response organisation to prepare for situations that may occur. Our HSSEQ management system includes processes and procedures for how to prepare for and respond to emergencies.
Aker BP has emergency response teams for each field asset in operation and the onshore response organisation has the capacity to support the offshore organisation and secure Aker BP's interests on a strategic level. All personnel in our emergency response organisation are trained in applying a proactive approach if an incident occurs. This allows us to use our in-depth knowledge of our business to predict the potential outcome of any undesirable incident and task our resources to handle the situation. Emergency preparedness planning is based on the principles of establishing barriers and maintain them by planning and activities. Risk assessments, analysis, procedures, and training of personnel are the core elements to develop a competent, robust, and well-trained organisation that can manage all incidents safe and effectively. A key element in our emergency preparedness is the concept of Defined Situations of Hazard and Accident (DSHA). These are predefined situations which contribute to the dimensioning of our emergency preparedness, for example well blowouts, oil spills, fire, explosion, collision, cyber-attacks and pandemic outbreaks. Each DSHA has specific emergency response plans and scaling factors to ensure prompt and precise handling.

The emergency preparedness department is responsible for verifying that Aker BP's emergency preparedness satisfies internal and external requirements. Our emergency preparedness organisation is coordinated with the public rescue service, health and care services in the country and with the municipality's emergency preparedness. Aker BP also works closely with our partners' emergency response organisations to ensure that we have a shared understanding of emergency preparedness plans, our responsibility and our priorities. This is particularly evident in oil spill response, where operators collaborate on joint emergency preparedness solutions. We are clear in our expectations as regards emergency preparedness, and exchange knowledge and experience with others to achieve a well-functioning emergency organisation.
Security
In line with our objective of becoming the leading independent E&P company, Aker BP plays an important part in providing predictable and stable energy security. Security in the energy market supports the global need for local and global sustainable development in line with the UN's sustainable development goals.
Unexpected imbalances in the energy supply may impact political and financial stability on a global scale. Unfortunately, some actors deliberately seek to cause such imbalances to reap financial, political, or other benefits. Preventing these actors from succeeding is the objective of our security efforts. Aker BP operates assets exclusively on the Norwegian Continental Shelf. This is a politically stable and comparably safe region, which presently does not necessitate use of armed security forces or similar aspects to protect our general workforce.
During years with unprecedented growth in number of threat actors, 2021 focused on institutionalising our advanced threat analysis capabilities. Not only improving analytics but also focusing on using the insight to reduce uncertainty in real day-to-day operations, risk assessments, and decision making.
Security traditionally focuses on outside threats rather than those posed by untrustworthy individuals inside an organisation. To balance our holistic security approach an enhanced focus on personnel security measures has been implemented in both governance and in practice.
Continual improvement of cyber-risk management is a high priority for Aker BP. The ongoing cyber security programme has reduced the cyber-risk level and matured how the company monitors and responds to cyber threats in both onshore and offshore operations. The cyber security team delivers 24/7 security monitoring, improvement projects and corporate wide cyber-risk management including reporting to the Board of Directors. More information about our management of cyber security, including our Cyber Security Policy, can be found on our website, under Security. Cyber security is identified as one of the enablers to Aker BP's digitalisation vision and will continue to be one of the important supporting disciplines in creating sustainable operation of Aker BP's assets.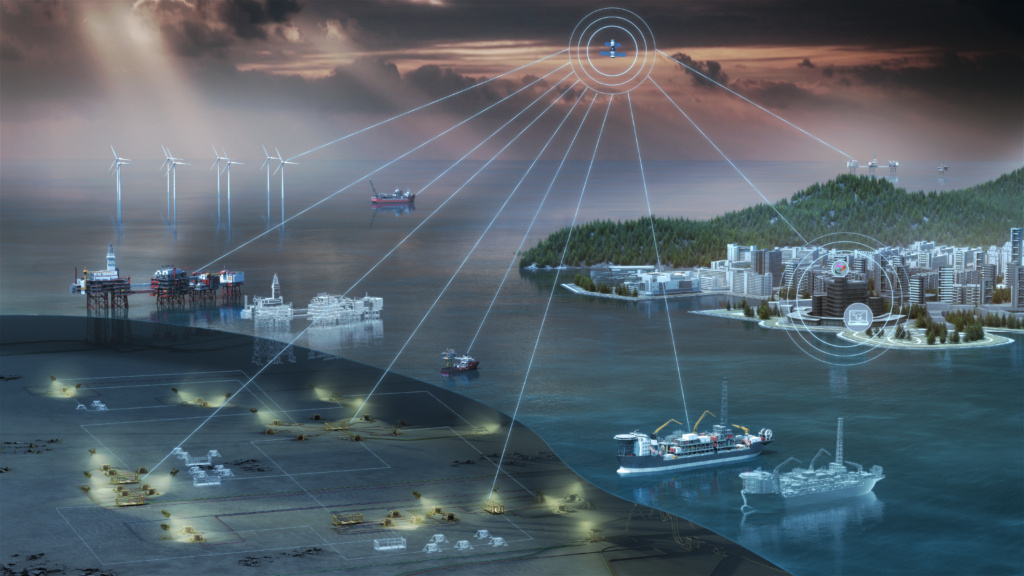 SUSTAINABILITY DATA
OCCUPATIONAL HEALTH AND SAFETY
2019
2020
2021
Units
Fatalities Employees
0
0
0
–
Fatalities Contractors
0
0
0
–
Fatality rate Employees
0
0
0
–
Fatality rate Contractors
0
0
0
–
Serious Injuries Employees
2
1
2
–
Serious Injuries Contractors
4
3
2
–
Lost Time Incidents Employees
2
1
1
–
Lost Time Incidents Contractors
8
3
6
–
Lost Time Incidents Employees + Contractors
0.8
0.4
0.7
per mill
exposed hours
Lost Time Incident rate Employee
na
0.3
0.3
–
Lost Time Incident rate Contractors
na
0.4
1
–
Medical treatment incidents Employees
3
0
2
–
Medical treatment incidents Contractors
20
9
6
–
Total exposure hours
9.79
10.84
9.25
Million hours
worked
Total recordable injuries frequency (TRIF)
-Employees + Contractors
3.1
1.2
1.9
per mill
exposed hours
Total recordable injuries frequency (TRIF) – Contractors
–
1.6
2.2
per mill
exposed hours
Total recordable injuries frequency (TRIF) – Employees
–
0.3
1.1
per mill
exposed hours
Serious injury frequency (SIF)
0.6
0.5
0.3
per mill
exposed hours
Near misses with high potential
7
3
5
–
| | | | | |
| --- | --- | --- | --- | --- |
| Asset integrity and Process Safety | 2019 | 2020 | 2021 | Units |
| Number of Tier 1 process safety events | 0 | 0 | 0 | – |
| Number of Tier 2 process safety events | 0 | 0 | 0 | – |